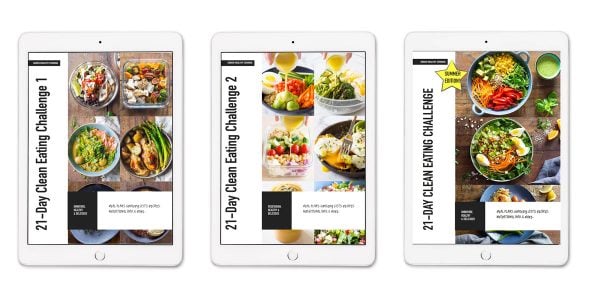 $54 USD

The ultimate 21-Clean Eating Challenge Bundle contains:
Over 70 Clean Eating Recipes
Three 21-Day Clean Eating Meal Plans: one omnivore fall/winter edition, one omnivore summer edition, and one vegetarian
Printable Grocery Lists
Plenty of Meal Prep Recipes to make life easier throughout the week
Nutritional information for each day, including calories & macros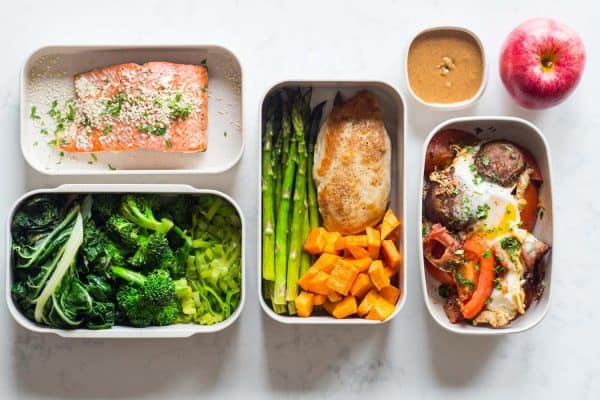 Are you sick of going out for lunch every day, hitting the drive-thru, and being totally overwhelmed trying to get dinner on the table? The Ultimate Clean Eating Challenge Bundle is here to help! With over 50 healthy recipes and meal prep instructions that will help you pack a healthy lunch for work every single day, and plan breakfasts and dinners ahead of time.
What is included in the 21-Day Clean Eating Challenge Bundle?
Easy-to-follow meal plans with printable grocery lists in a convenient set of PDFs!

How is "Clean Eating" defined?
There are plenty of definitions. MY definition is
as unprocessed as possible in a real-world scenario where all of us have about 39372920 other things on our daily to-do-list after "preparing a healthy meal".
The recipes are all made with regular ingredients you'll be able to find at any major grocery store. No weird stuff. No complications. Just simple and delicious and healthy.
I even think that if you properly nourish your body and cover its macro and micronutrients a cookie every now and then or a teaspoon of sugar in your coffee every day won't harm you at all :)
Want to know what others have to say about the Challenges?
"Thank you Lorena, for putting out this 21-day Challenge, perfectly timed to start the new year after (over)indulging over the Christmas holidays. Such a daunting and time-consuming and therefore intimidating goal for a pig like me to eat healthy EVERY DAY… but with all the recipes lined up for all the days, all three meals every day, I couldn't even find an excuse not to participate! Your enthusiasm and passion are contagious and best of all, your recipes are delicious… not just very good, but out of the ordinary great. For anyone that LOVES good food, there is just no more reason to eat any other way than healthy and clean when it's this yummy. For sure, I am just going to continue throughout the year even though it is a lot of work to plan and prepare all the meals each week. Not only have I lost the few extra pounds I gained over the holidays, I am saving quite a lot by not eating out. The best and most amazing part for me is that I don't crave desserts anymore. It's huge for me to come to this point, as I have been absolutely addicted to desserts and sweets ALL my life. I don't even feel like I'm depriving myself right now. I know that eventually, I will go back to having desserts, but only occasionally and/or in special celebrations. This, coming from someone who could eat only desserts every day, three meals a day, if I could be healthy this way…. never imagined this could be possible!" – Yoko
"Absolutely loved the 21-Day Clean Eating Challenge. The shopping list was perfect. I made meals that I never would have thought of making before. The recipes challenged my culinary skills but the step by step instructions were easy to follow and all the recipes turned out delicious. I lost 10 pounds and never felt hungry or deprived! Thanks Green Healthy Cooking!" – Ladene
$54 USD

The fine print…
Return Policy
I want you to love this eBook. If you are not completely satisfied with your purchase, you have up to 7 days to request a refund.
Payment Options
You can use a credit card!