Print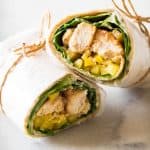 Healthy Chicken Wrap
Healthy Chicken Wrap recipe, the perfect take to work or take to school lunch and it's got the most delicious Yogurt Garlic Sauce you've tried in your LIFE!
1

Shish Taouk

(make sure you check out the recipe by clicking on the the Shish Taouk link to have all ingredients and necessary time on hand)

10

leaves

romaine lettuce

1

yellow or red bell pepper

8-10

cloves

garlic

1/2

lemon

1/2

tsp

Salt

1

egg white

1/2-3/4

cup

vegetable oil

(avocado or sunflower are my favorite)

1/2-1

cup

plain full fat yogurt

(plain Greek yogurts works well, too)

1/2-1

Tbsp

honey

2

large

whole grain tortillas
Have Shish Taouk ready. If you don't consider an extra 10 minutes prep + 1 hour passive time for marinating)

Add peeled garlic and juice of half a lemon plus salt to a blender and blend until nice and creamy. This will require scraping down the sides a couple of times. Make sure to disconnect the blender every time you do to avoid accidents.

Once the garlic and lemon juice are completely creamy, add egg white and blend until well combined.

Turn the blender to low and slowly add vegetable oil in one string. The string shouldn't be thicker than a spaghetti. Continue adding oil until the garlic sauce is rich and creamy. If you add the oil too fast the sauce will curdle and you have to start all over again. Be patient.

Mix garlic sauce with plain yogurt in a 1-2 ratio. Say 1/4 cup garlic sauce into 1/2 cup yogurt and add honey to your liking.

Spread about 1 Tbsp yogurt garlic sauce onto 1/3 width-wise and 2/3 length wise onto the tortilla

Lay out 4-5 washed and dried romaine lettuce leaves onto the sauce removing the hard stems in the middle.

Wash, dry and thinly slice bell pepper and place on the lettuce.

Add Shish Taouk chicken, add some extra yogurt garlic sauce if desired and roll the wrap tightly as explained in the post above.

Enjoy!
2 wraps are enough for 1 adult or for 2 children.