My kids just started gymnastics classes right above one of Montreal's markets, like how convenient is THAT?!? They go to their gymnastics class while I get a chance to walk through the market and shop for fresh and gorgeous-looking things without having to watch out for little mouthes giving apples and tomatoes that are placed too far down a bite. Yes, yes, this has happened more than once. I mean I am thrilled that my kids love fruit and vegetables so much they just grab them and bite right into them, I just wish they'd ask permission first and give me a chance to pay for them first *sigh*
So this week I walked out the gym place and bumped right into a beautiful assortment of wild mushrooms.  Chanterelles, Oyster Mushrooms, Shiitake and whatnot. They were selling little wooden baskets with a mixture of all and the idea for this Whole Roasted Cauliflower with Wild Mushrooms was born.
I've been wanting to make a whole roasted cauliflower for many years but I just couldn't come up with a recipe of my own. I am not inventing the wheel here. People have been roasting whole cauliflowers forever but I wanted to create a unique recipe for you including a whole roasted cauliflower and I think I managed to do so this time.
The cauliflower is smothered in provence herb and garlic butter and covered with plenty grated Gruyère and smells divine once you take it out of the oven. I know, I know, everything smothered in butter and Swiss cheese tastes divine but cauliflower and wild mushrooms covered with butter and Swiss cheese EVEN MORE!!! No kidding!
I'm sure when I posted the picture of the mushrooms on Instagram and Facebook nobody imagined this was going to be created with it. A symphony of taste and colors. Healthy, clean, real, beautiful … perfect vegetarian lunch recipe!
It was my mum's Birthday yesterday and had I had the chance to be there with her to celebrate this is what I would have made her. She has NO sweet tooth whatsoever, so she obviously doesn't really enjoy cake. Yes, I know. W-E-I-R-D! Haha! This Whole Roasted Cauliflower with Wild Mushrooms looks like cake without being cake, right? HAPPY BIRTHDAY MAMI! This is for you. Muaaaah!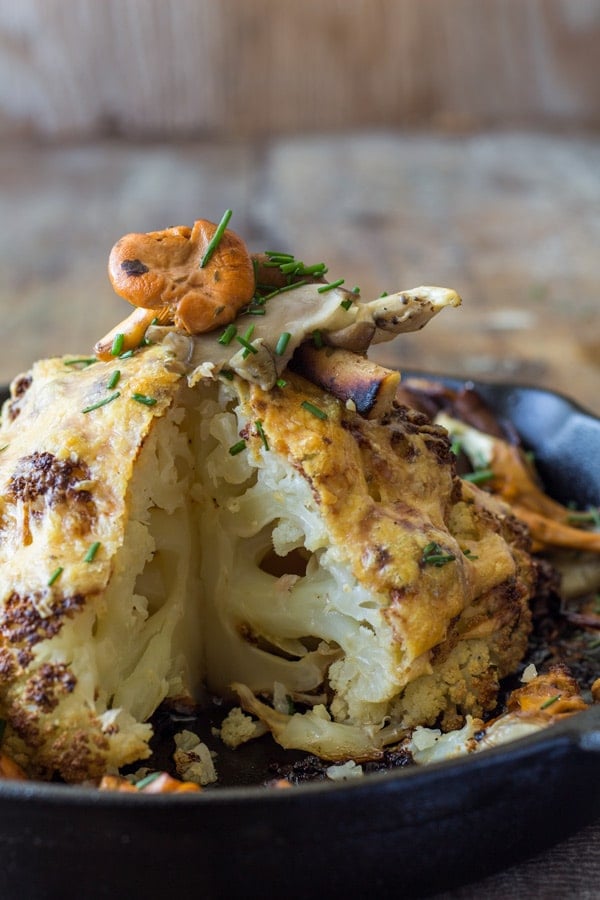 Whole Roasted Cauliflower with Wild Mushrooms
Print Recipe
Ingredients
1

head

cauliflower

3.5

oz

butter

-

(100g, room temperature!)

1

Tbsp

herbes de provence

1

clove

garlic

3.5

oz

Gruyère cheese

-

(100g)

1

lbs

wild mushrooms

Salt

Pepper

chives
Instructions
Preheat oven to 400 F (200°C).

Remove leaves and hard stem from cauliflower being careful to leave the cauliflower as a whole. Cut a cross into the stem to allow juices to be absorbed in oven.

Put 2 oz (60g) butter, herbes de provence and crushed garlic into a bowl and mush together with a fork until well combined.

Smother the cauliflower with the herb garlic butter using your hands making sure it covers every little nook and the bottom, too.

Place the cauliflower in a cast iron skillet (or baking sheet) and salt and pepper it from all sides.

Grate the Gruyère and then tap it onto the cauliflower with your fingers making sure it stays in place.

Put in the oven for 45-50 minutes (depending on size). A wooden pick inserted in the middle should go in easily when it is ready.

Heat a pan over medium heat.

About 15 minutes before the cauliflower is ready, cut of hard ends of the mushrooms.

Melt remaining herb garlic butter in pan and once hot toss the mushrooms in the butter until desired softness is reached.

Salt and pepper to taste.

Wash and chop a few strings of chives.

Take out cauliflower from the oven and cover with mushrooms and chives.

Serve right away.

This will serve 2 as a main dish or 4 as a side dish.
What's your clean eating vibe?
Take this fun QUIZZ and find out in 10 seconds!