A friend (Hi Verena) asked for some tips on how to poach an egg without ending up with just white foamy egg pieces all over the place and I figured this would be the perfect Easter Breakfast suggestion for Green Healthy Cooking. Poached Egg something….about 20 read written tutorials and 5 seen video tutorials and 500 eggs later I finally came up with these Swiss Roestie with Perfect Poached Eggs. If they were any less than perfect I would't have eaten this. I can't see or smell eggs anymore. Seriously! But I had to try it of course, how else am I going to dare posting it here? Well, even though I ate what feels like 500 eggs over the past week, I was able to totally enjoy this deliciousness! I won't eat eggs for the rest of the week though I think. Ugh!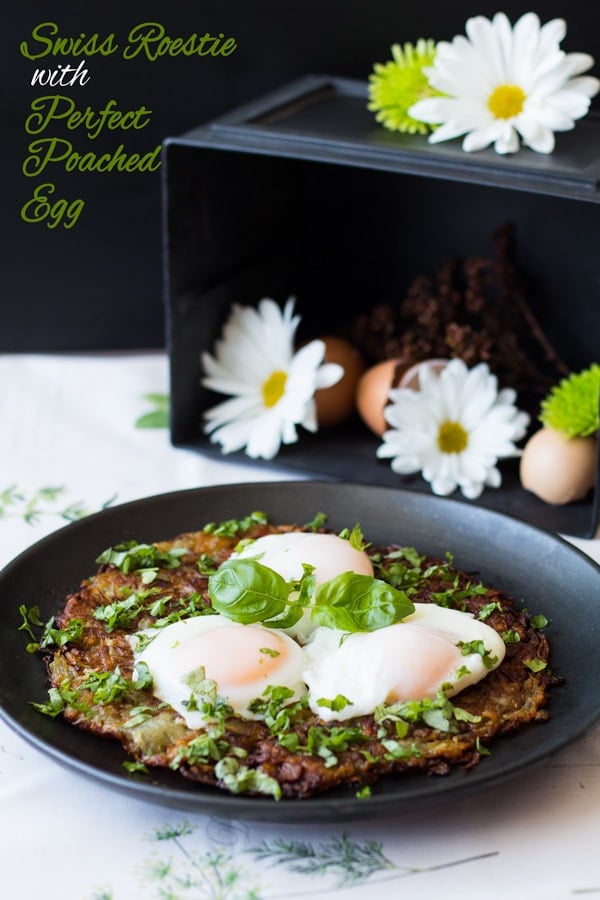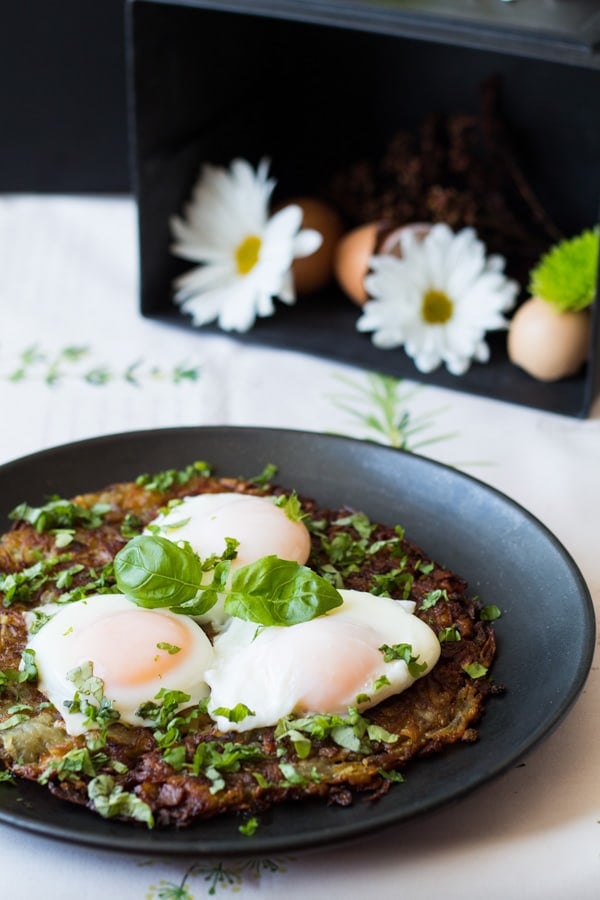 I tried pretty much every tip and trick there is out there for making perfect poached eggs. Baking soda, vinegar, salt in the water. Hard water out of the tap, soft water from bottled water, swirl around the water before sliding the egg in, cracking it out of the shell directly into the water, letting it slide out of a ramekin, egg poachers, cling film….you name it. Now here is the deal, if your eggs are not fresh you can add whatever you want to your water, pray and say abrakadabra simsalabim or bibbidi bobbidi boo and still they just WILL NOT turn out great. A tiny bit of vinegar helps when your eggs are older than 48 hours but for say 2-week old eggs there is just no remedy anymore. Eggs have to be super duper ultra mega fresh and when they are your poached eggs will even look beautiful when the water temperature was not right and you cracked them directly into the water and you swirled the water and all. When they are fresh they just hold together and are very forgiving. Hence, it is difficult to peal hard boiled eggs when eggs were fresh because the shell sticks to the egg. The older the egg, the better for hard-boiling. Now, how do you know if your eggs are fresh? Well, the best way is to buy them at a small farm where you know the farmer and he can tell you the eggs were laid that day or the day before. Or you can go to a small health food store where the store owner knows when they get their eggs delivered from small farms and the laying date tends to be one or two days before delivery. If you only have access to regular supermarkets, get that box from the far far back bottom and then do the water test at home. Pour cold water into a glass bowl and submerge the egg. If it sinks and lays flat on the bottom it is fresh and suitable for poaching. If one end floats a little they are not that fresh anymore. If they stand upright they are old, but still suitable for consumption and great for hard-boiling. If your egg does not sink but float, it is not safe for eating anymore. It has gone bad.
Ok so, now that you know you have very fresh eggs you also know you can't do many mistakes. The best way for making beautifully looking poached eggs was by bringing water to the boil on high, then lower to medium low (my stove goes from 1-9 and I turned it down to a little below 4) and wait for the big bubbles to disappear. Once water is simmering and a bubble bursts only occasionally on the surface you crack an egg into a ramekin and then very gently slide it into the water. If the egg is very very very fresh, as in laid that same day, it will sink to the bottom but that's ok, it won't stick and you can still lift it out later. Set a timer for 3 minutes and then lift it out. That's it. Plain simple.
By the way, if you buy eggs at a small local farm from happy chicken that are allowed to graze and eat worms you tend to get amazing eggs of different colors and sizes. This egg I got in one of my 50ish(?) boxes I bought over the past couple of days, has by far been the prettiest I have ever seen:
For the Swiss Roestie make sure the pan is really really hot before adding the fat and then again make sure the fat is really really hot before adding the grated potatoes, otherwise they will stick to the bottom and flipping will be impossible.
Swiss Roestie with Perfect Poached Egg
Print Recipe
Ingredients
300

g

waxy potatoes

1/2

small

onion

3

stripes

bacon

-

(omit for vegetarian)

Salt

Pepper

1

Tbsp

ghee or butter

-

(add another 1/2 Tbsp for vegetarian)

3

eggs

-

(VERY FRESH & room temperature)
Instructions
Peel and grate potatoes.

Peel and chop onion.

Cut bacon into very small pieces.

Mix together in a bowl and season with about 1/4 tsp salt and 3-4 round to the pepper mill. Set aside.

Heat a oven proof pan (such as cast iron or all stainless steel) over medium heat (not high! MEDIUM).

Preheat oven to 350 F (180 °C).

In the meantime, put grated potatoes into a sieve and press out the water.

Once the pan is very hot, add 1 Tbsp ghee or butter and wait until it just start smoking, immediately add grated potatoes, spread evenly and press down with a spatula.

Fry for about 10 minutes until golden brown.

Flip the roestie by using a plate or another pan lined with baking paper, cover the pan and with oven gloved hands turn over your pan so the roestie falls onto the plate, then slide back into the pan.

Fry for another 8-10 minutes until golden brown, then transfer into the hot oven.

Bake for 12-15 minutes keeping an eye on it to make sure it doesn't burn.

minutes before the roestie will be ready, bring about 2 liters of water in a pot to the boil over high heat.

Lift off the pan wherever needed and then slide onto a plate or cutting board. To cut you will have to wait for it to cool down a bit first. If you don't like the excess oil, tap it with some paper towel.

Once water is boiling reduce to medium low (my stove goes from 1-9 and I turned it down to a little less than 4) and wait for the bubbles to disappear. Only very few small bubbles should be seen on the bottom of the pot with and occasional bubble bursting on the surface. It is a mere simmer.

Crack one VERY FRESH egg (eggs older than a 3 days are too old) into a ramekin or a small glass bowl and then very gently slide the egg out of the ramekin into the water.

Immediately set a timer for 3 minutes.

Lift out the poached egg with a slotted spoon and place on too of roestie.

Repeat egg poaching instruction another 2 times. Do not poach several eggs at a time. Only one by one.

Sprinkle fresh herbs over eggs and roestie.
What's your clean eating vibe?
Take this fun QUIZZ and find out in 10 seconds!
Another pretty way to present this dish is by pressing the fried Swiss Roestie into ramekins and then bake for 15 minutes in those as opposed to the pan. Then add the poached egg into the middle and sprinkle with parsley like so: