And the clock-hand moves to midnight……….now! Have I ever mentioned that I want to get all organized and such with this blog? Well, you can clearly see that that hasn't happened juuust yet. I cooked TODAY, not all organized a couple of days ahead, but today…oh wait! Yesterday! It just stroke 12. Great! I did cook a day ahead. All is good. Ha! But I didn't finish editing the pictures until a couple of minutes ago because someone took foreeeever to fall asleep tonight and wouldn't let me work early….However, I can't really blame my daughter for me working past midnight now. Had I been all organized as I planned on being, this post would have been ready and scheduled last week already *sigh* One day folks. One day!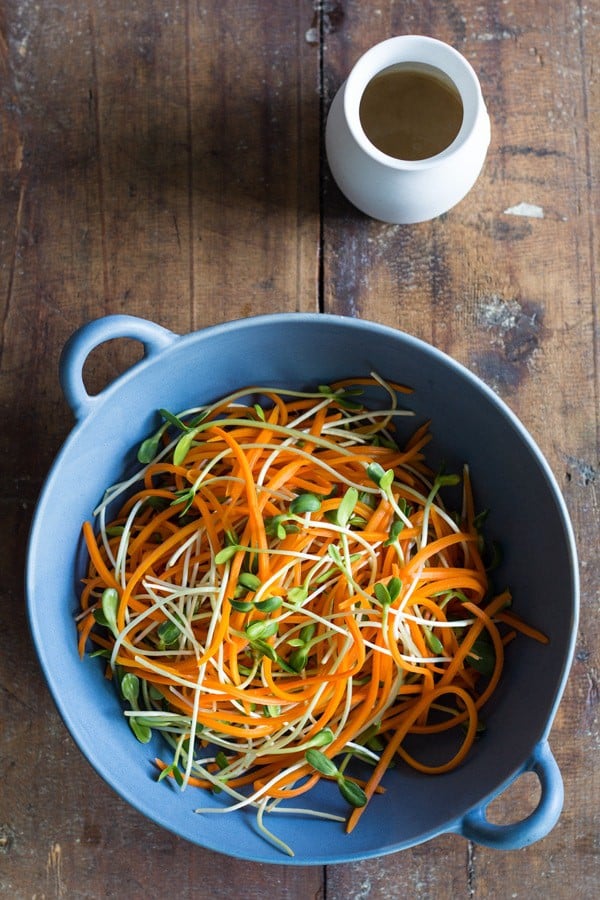 You want to know why I chose to make a Sunflower Carrot Salad for today's blog post? You are so going to laugh at me. I always order my produce with a local organic produce distributor in Montreal and on his site one can always choose to get either a piece, a bag, half a case or a case of some specific produce and this little distracted fool here didn't pay attention and instead of ordering one 2lbs bag of carrots, ordered half a case of carrots which ended up bein 24lbs of carrots. Tssssssss. Drsh! First I obviously begged friends and neighbours to please buy some from me, which they did, but then I still had 10 lbs left. Of course we have had only raw carrots for every snack and carrots for breakfast, lunch and dinner, ever since we got them but this salad is great because it needs a lot of carrots and what I love the most about it is it's crunchiness. I love crunchy salads.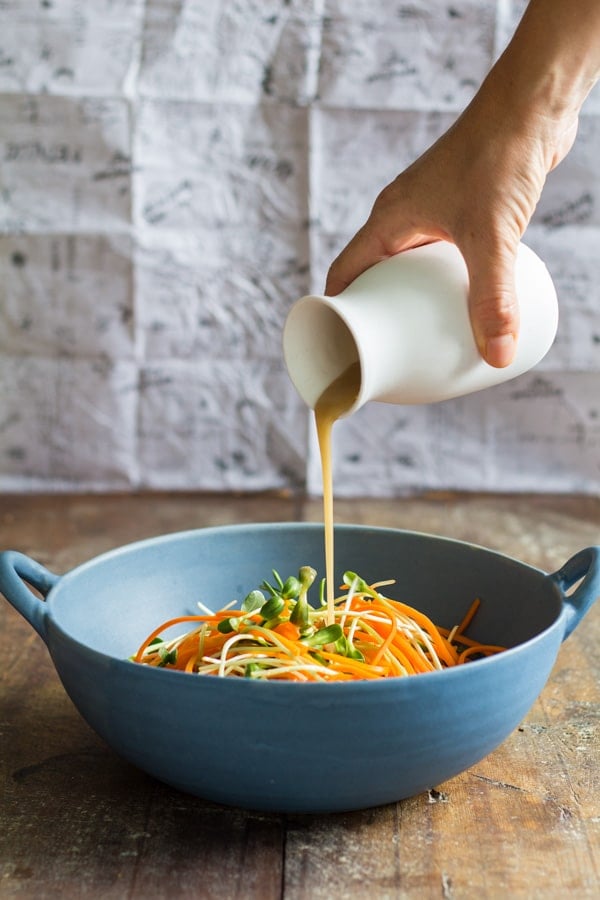 The dressing I made with sunflower seed butter but that can easily be replaced by tahini, almond butter or even peanut butter if you don't have sunflower seed butter at home. It will taste very different but equally amazing. The importance here is to get a tasteful thickener into the dressing so it sticks to the carrots. If you cannot find sunflower seed sprouts where you live, you should emigrate. Just kidding! They are really one of the most delicious foods on the planet I reckon though and are worth moving for ;) If you don't want to move away just so you can get your hand on these delicious sprouts you can always use another sprout or micro green.
Sunflower Carrot Salad
Print Recipe
Ingredients
1

lbs

carrots

1

hand full

sunflower seed sprouts

1

Tbsp

sunflower seed butter

-

(or tahini or almond butter)

1

Tbsp

honey

-

(agave for vegan version)

2

Tbsp

rice vinegar

4

Tbsp

sunflower seed oil

1/2

tsp

salt

sunflower seeds

-

(optional)
Instructions
In a large pot bring about 2 liters of water to the boil.

Peel and julienne carrots.

Once water boiles put in julienned carrots and swirl around to make sure they are all submerged in water. Cook for ONE minute only (set an alarm) and immediately drain.

Wash sprouts and add to cooled down carrots.

In a sealable container, such as mason jar, add seed butter, honey, vinegar, oil and salt and shake well until smooth.

Pour dressing over carrot and sprout salad and mix well. Sprinkle sunflower seeds on top if desired.
What's your clean eating vibe?
Take this fun QUIZZ and find out in 10 seconds!
Prepare yourself for a couple of carrot recipes. I still have half a fridge full, ha!