The weather is getting nicer and nicer here in Montreal and the hot weather country feeling is starting to take over. People spend as much time as possible outside, cafes and restaurants pulled out all their patio furniture to serve their guests outside, parks are full full full from morning till late evening. I LOVE IT!!! This calls for Peruvian food in my opinion. Latin American food and eating outside in the heat go very well together, don't you think? Make sure to remember that marinating happens over night. Prepare your marinade the night before, spread it all over your spare ribs and then put them in a sealable glass container and in the fridge so the meat can suck up all that awesome flavors.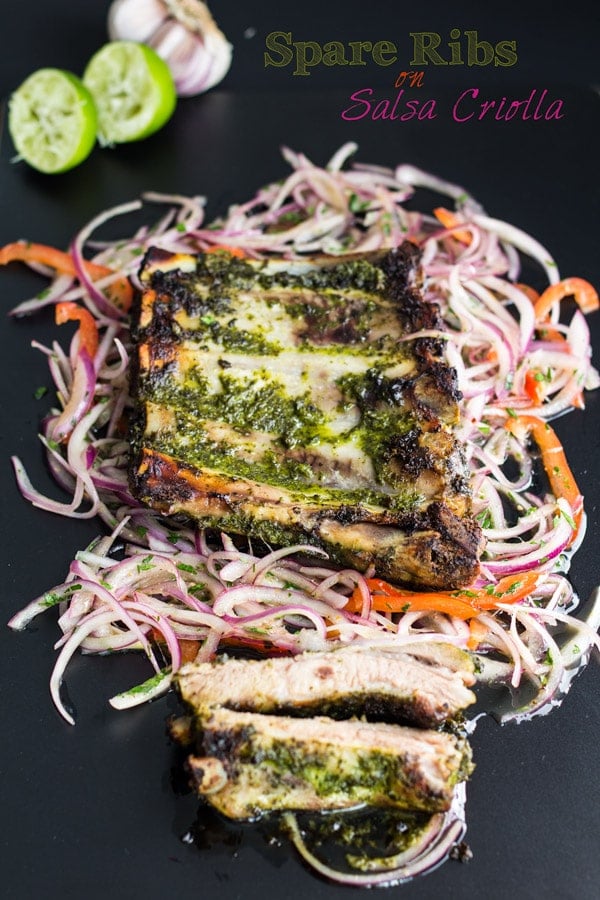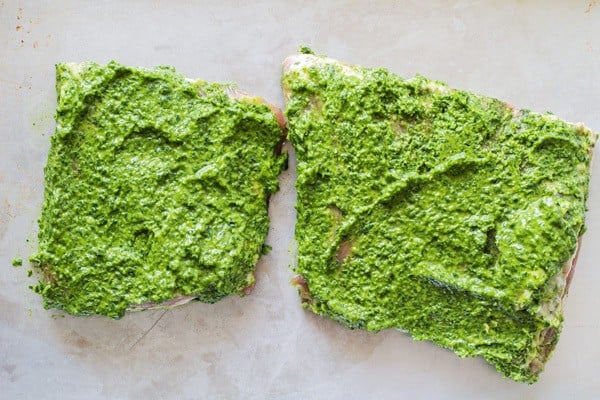 The recipe for the Salsa Criolla is my mom's. So you are not only getting an awesome recipe created by Green Healthy Cooking a.k.a. me, BUT you are also getting a decades old recipe from a very experienced cook a.k.a. Mami. Isn't that extraordinarily special? Say thank you me's mom! Do you want to know something equally awesome as the change in weather? My sister and her boyfriend came to visit us!!!!! Yippyyy!!! I am so excited and the kids are over the moon excited to have their aunty here. The one thing I miss the most about "home" is not having my sisters around all the time. We were and are very close and used to hang out A LOT, even once all moved out. To raise ones own children without the tribe is darn difficult and sometimes I wish we could just move at least closer. For now though I will not complain about being separate because one of them is HERE!! Here in Montreal, here with ME *jumping-up-and-down-like-a-crazy-monkey*. For you guys this means, stay tuned for some especially awesome recipes that I will create for my sister and probably Peruvian inspired again.
Spare Ribs on Salsa Criolla
Print Recipe
Ingredients
1.5

lbs

pork spare ribs

-

(700g)

1

bunch

parsley

-

(95g)

1/4

cup

avocado oil

1/4

cup

white wine

1

tsp

cumin

1

tsp

salt

pepper

3

cloves

garlic

2

oz

white wine

-

(60ml)

1

red onion

1/2

small

red bell pepper

3

Tbsp

avocado oil

1

lime

1

tsp

ají

1/2

tsp

salt

pepper
Instructions
The night before, wash and destem parsley and add to blender (food processor is ok, too will do less of a good job though. Blender is better).

Add 1/4 cup avocado oil, white wine, cumin, 1 tsp salt, pepper and garlic to blender and blend until creamy.

Spread marinade all over spareribs from all sides and place in a large ovenproof sealable dish in one layer. Place in the fridge until needed. You can use cling film to seal the dish if it doesn't have a cover.

Next day: take out dish with spare ribs of he oven and preheat oven to 400 F (200°C).

Once hot, put spare ribs in the oven and cook for 1 hour pouring one of the two ounces of white wine over the spare ribs after 20 minutes and the other ounce after 40 minutes.

While the spare ribs are in the oven, peel, wash and finely slice red onion.

Put onion in a bowl and cover with water. Let it sit for at least 30 minutes.

Then drain and rinse onions and drain very well again.

While draining, wash and very thinly slice the bell pepper.

Mix onions, bell pepper, 3 Tbsp avocado oil, juice of lime, ají, 1/2 tsp salt and pepper together and serve with done spare ribs.
What's your clean eating vibe?
Take this fun QUIZZ and find out in 10 seconds!
A side dish that would go well with these spare ribs are Butter Garlic Roasted Carrots and Broccolini because they need minimal preparation and you can make in the oven at the same time as the spare ribs.