I have been experiencing a blogging down for the past couple of weeks. I felt like anything I cooked just wasn't blog worthy or plain disgusting and the few thing that did turn out good I just wasn't able to photograph in a nice way. Montreal winter days are sooo very short it is difficult to stand by the window and wait for those 4 rays of sunlight to shine on your food before they hide behind the neighbor's building. And if the camera settings I chose weren't the right ones there is no chance for a reshoot until about 23 hours and 55 minutes later *sigh*. Today though, I think I was able to just jump up and over that down. I experimented with meatballs and pistachios and the result was amazing. I l.o.v.e. them! And I was lucky enough to have had two patient and amazingly behaving kiddos today. They were happy playing on their own while I prepared and shot the food photographs during those entire five minutes of perfect sunlight through my window. I hope this trend continues because it surely isn't fun to eat yucky food with a sad face.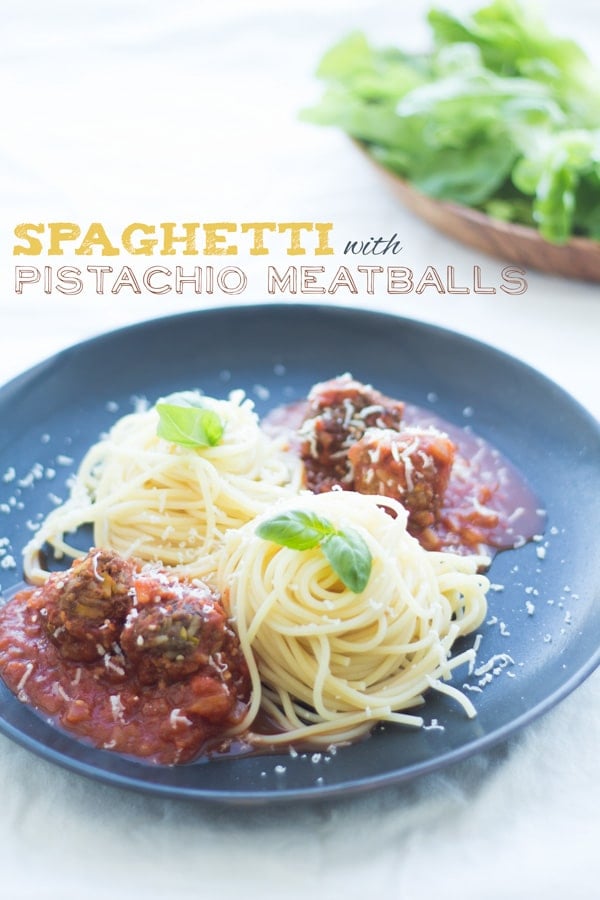 I always thought meatballs are kind of boring and only kids love them because they are fun to eat but theeeese….oh my! Theeeese are for adults, too. They will instantly transport you to someone's nonna's kitchen in Italy (in case you don't have one yourself). The pistachios give them a crunchy texture and the most delicious flavor and the spices make them extra tasty. I especially liked the chilli in the ones I made for us the adults separately. If you are cooking for adults only make sure you include the chilli. If you are cooking for children and adults, simply divide the meat and cook everything in two pans. It is worth it! It will give you kisses in your tummy.
In this recipe I suggest to use slightly overcooked rice instead of breadcrumbs. Most store-bought breadcrumbs contain MSG (monosodium glutamat) and that is something everybody wants to avoid. Making your own breadcrumbs is a healthy alternative but (I don't know about your household) here, bread doesn't go stale ever. I tend to have some rests of rice in the fridge more often than not which I cook in a little water to soften further. If I don't have leftover rice I cook half a cup in one cup of water and get the perfect consistency for this dish.
To get a consistent size and form for the meatballs, use a small ice cream scoop or if you don't have one (like me) use a 1 Tablespoon measuring spoon and then roll the measured meat in your damp hands. If your hands are dry the meat will stick to your fingers. Simply wet them a little and you'll see how easily they roll. Spread them on a lined baking sheet so they don't stick to a plate or one to another.
Spaghetti with Pistachio Meatballs
Print Recipe
Ingredients
1

lbs

lean ground beef

-

(500g)

1/2

cup

white rice

-

(overcooked)

1/3-1/2

cup

pistachios

-

(shelled)

1

egg

3/4

tsp

salt

1/2

tsp

coriander

1

tsp

cumin

1/2

tsp

chilli powder

butter

1

large

onion

2

cloves

garlic

400-500

ml

tomato sauce

salt

pepper

basil

-

(fresh, not dried)

Parmesan cheese
Instructions
Peel and finely chop onion and peel and crush garlic. Set aside.

Chop pistachios. Set aside.

Fill a large pot with water and bring to the boil.

In a bowl mix together with your hands: ground beef, rice, pistachios, egg, salt, coriander, cumin and chilli powder.

Use ice cream scoop or measuring spoon to evenly size meatballs and roll in your damp hands to get perfect little balls. (lay out on a lined baking sheet to avoid them sticking together or onto a plate).

Heat 1 tablespoon of butter in a large pan over medium heat and once very hot fry meatballs in batches (at least 3 batches, adding another tablespoon of butter for every batch). Lightly brown all sides for only about 30 seconds every side, do not cook through.

Lift out the ones that are lightly browned onto a paper towel lined plate.

Once all meatballs are finished, fry the set aside onion and garlic in the same pan until translucent.

Add tomato sauce and bring to the boil.

Once boiling reduce heat to simmer and carefully place meatballs in tomato sauce. Cover and let simmer for 15 minutes.

The water in the big pot should be boiling by now. Cook a pack of your favorite Spaghetti as instructed in the package.

Serve meatballs and tomato sauce over spaghetti, sprinkle parmesan and basil over it and accompany the dish with a green leafy salad.
What's your clean eating vibe?
Take this fun QUIZZ and find out in 10 seconds!