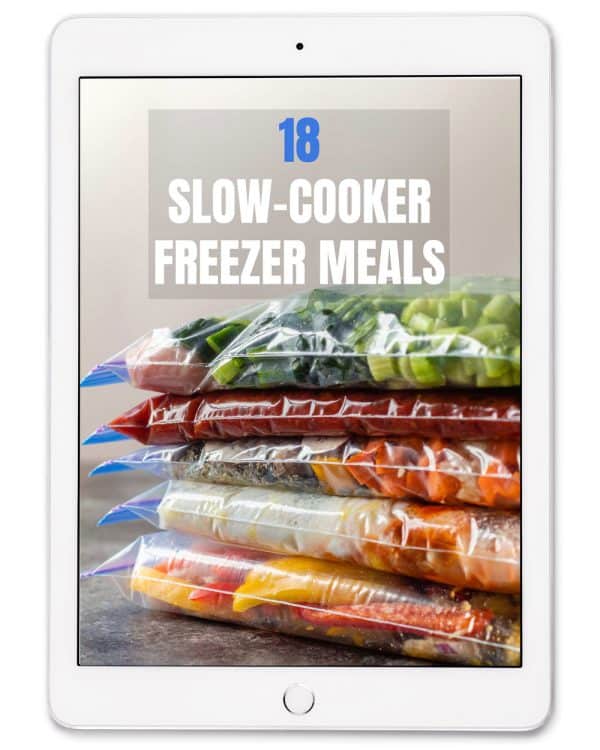 $24
Reduce stress. Waste less food. Eat healthier. Save money!
With the grocery lists, recipes and freezing instructions included in this Slow-Cooker Freezer Meal eBook you will:
stock up your freezer with healthy meals
have a plan and reduce stress
eat healthy even when life is busy
reduce food waste
save time and money!
What's included in this bundle?
18 Slow-Cooker Freezer Meal Recipes with freezing and cooking instructions
Suggestions for Instant Pot or Stovetop cooking instead of slow-cooking
All the details on how to get started
Fillable and printable monthly and weekly meal planner
Printable, checkable, and adjustable grocery list
Printable list by recipe types to make assembly line more efficient
Printable labels
Freezer inventory template.
Information about the best freezer bags or containers for your situation:

What kind of recipes will I find in this e-Book?
Healthy, nutritionally balanced, mostly clean-ingredient recipes full of flavor and perfect for freezing!
Hearty, nutritious and delicious dinners
Extra side dishes
Recipes include:
Lemon Chicken
Cauliflower Soup
Pot Roast
White Chicken Chili
Sweet Potato Chickpea Curry
and many more…

$24

Still not convinced? Let me answer some frequently asked questions
Why Slow-Cooker Freezer Meals?
Most slow-cooker recipes tell you to add all of the ingredients to your device and turn it on. That's it! That's all the science behind it. That means some of them can be frozen without any cooking ahead of time, too! Of course, as long as the ingredients are all freezer friendly.
I was able to make 18 (!) freezer meals in under 3.5 hours on a Sunday afternoon. All by myself. And I stocked up my freezer for the next 3 months.
It's a blessing to have the freezer full of healthy meals for those busy nights I know I simply won't be able to cook.
Does freezing affect the texture, taste, and nutrition of the dish?
Since the freezer meals I've been working on are "NO COOK" freezer meals, they cook for the first time out of the freezer so the texture and taste is exactly the same as a freshly-prepared meal! Can I get a high 5 for that? Believe me, I know a thing or two about picky children and picky husbands…..just saying ;)
My family (and friends!) love them! The USDA Food Safety and Inspection Service says that freezing does not break down nutrients, so the nutritional value should change very little.
Do freezer meals need to be thawed before cooking?
Yes! For safety reasons, it is recommended to thaw them almost completely as else the meat might stay at unsafe temperatures for too long. I thaw my meals overnight in the refrigerator or in the morning in water. It's easy peasy.
How long do no-cook slow-cooker freezer meals last?
This depends a lot on the type of freezer you have but most freezers, no matter how small, tend to keep food in perfect condition for up to three months.
The meals are so delicious you won't want to keep them in there for too long anyway ;)
You can have access to the entire eBook bundle on your computer, tablet or smartphone in just 2 minutes from now. Just click the "buy now" button below and follow the simple instructions.
$24

The fine print…
Return Policy
I want you to love this eBook. If you are not completely satisfied with your purchase, you have up to 7 days to request a refund.
Payment Options
You can use a credit card!