Ladies and gentlemen, dear readers, family, friends, completely unknown people out there reading my blog (you rock by the way!), guuuuys: I'm BACK! I'm back in the land of the living. I'm back full force in the food bloggosphere and back making delicious recipes and taking pictures without feeling like my head is going to explode. I have been sicker than ever before. Well, maybe not literally but it certainly felt like it, because I can, of course, not remember at all how I felt the last time I had a full blown flu like this one. That has been so many years ago I really don't remember much about it at all. Once it's over and gone it is immediately erased from memory. Who wants to hang onto memories like that? Sooo, I'm not going to complain about how horrible I felt and what I had and didn't have, because I had it all anyway and the list would fill your screen until your scroll function stops working, but raaather I am going to tell you how AWESOME I feel now! I feel happy and relieved that everything is over and that I can present to you a very, very, very special creation.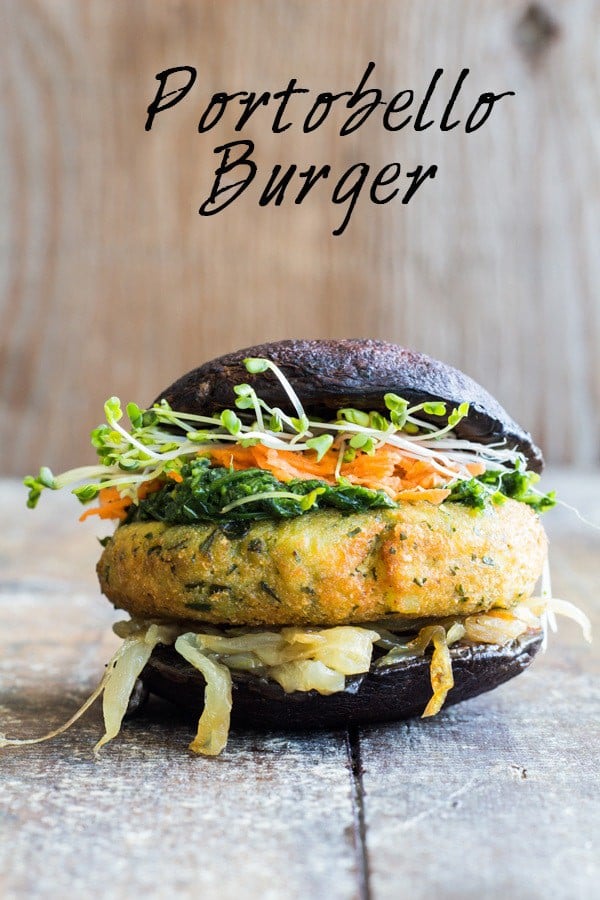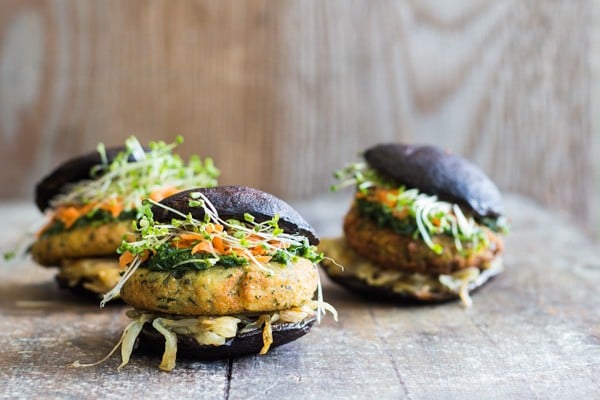 Many weeks ago my sister told me she made an out of this world delicious veggie burger with potatoes and zucchinis but she didn't plan it through from the beginning and the batter ended up being too wet and she had to add bread crumbs. She insisted though that the taste was so amazing I should put a similar recipe up on the blog. She figured, I would for sure find a way to make it without bread crumbs. That was the beginning of a wonderful mission. Fast-forward to failed veggie burger recipe version number 543 and you had not only me but also my kids close to tears because they really, really, REALLY didn't want to eat veggie burgers again in their LIFE! The patties were either too soggy or too dry and kind of pretty much always fell apart unless I mixed in about 4 dozen eggs and that made it more like veggie XXL omelet burgers or something along the lines. Then I decided to stop messing around with eggs and changed my strategy completely. I kind of wanted to meet the challenge and make them completely vegan AND completely grain / gluten free. Yes, your eyes did read the correct words here. Vegan, gluten-free, grain-free! Ohh, wait, wait, and if you haven't noticed yet or you are new to the blog and didn't figure out what the blog's name really means….HEALTHY, too! Because hey, who has anything else to do in life but figure out THIS.ONE. recipe? I know, I know. One shouldn't obsess so much about things but you know what? I DID IT!!!! I GOT IT!!! You should see me how I'm jumping up and down on my squeaky office chair out of excitement. I did it! I got the magic recipe together and I'm done eating burgers for the rest of the year, ugh! Well, maybe not, just until I forgot how it feels to eat 543 failed attempts of making an awesome veggie burger. What ended up being the magic ingredient that made the patties stick together, not fall apart, make them nutrient dense, tasteful, veeegan, gluten-free, grain-free AND healthy??? —> *drumrollplease* CHICKPEA FLOUR. How did I not think of that before? I made this Flourless Vegan Vegetable Quiche four months ago using exaaactly that as "egg-replacement"…DUH! Seriously folks, sometimes I need a high five
…in the face…
with a hammer.
The German food blog Kraut Kopf gave me that high five with a German tool when I found their Mumbai Burger recipe and also inspired me to give the patties their amazing Indian smell and taste. Once I had the inner patty thing figured out I had to just decide on a bun substitution and my first thought was of course lettuce. Lettuce burgers are not burgers burgers, though, right? Lettuce becomes all soft and yucky when in contact with something warm and that's gross. Then I stumbled upon The Rawsome Vegan Life food blog and her Portobello Mushroom Cashew Cheese Burger and that was it….Green Healthy Cooking's Portobello Burger was born….a.k.a. THE most perfect vegan, gluten-free, grain-free, healthy burger on.the.freakin.planet!
It takes a while to make these burgers. Two hours Lorena? Seriously? I knoooow! You just have to trust me! It is worth it folks. Absolutely worth it! You WILL turn your eyeballs towards the ceiling when you take your first bite and that will have made all the work worth it. Homemade eye-ball rolling food is the best food in the world. Are you ready for this?
Portobello Burger
Print Recipe
Ingredients
12

large

portobellos

2

Tbsp

soy sauce

-

(tamari for gluten-free)

2

Tbsp

coconut oil

1

Tbsp

coconut oil

5

medium

yellow onions

1

bunch

coriander

1

bunch

chives

2

Tbsp

honey

-

(agave for vegan)

1

Tbsp

lime

1/2

tsp

salt

1/2

tsp

dried garlic

500

g

yukon potatoes

1

Tbsp

coconut oil

1

tsp

fresh ginger

2

cloves

garlic

1/2

tsp

coriander

1/2

tsp

cumin

1/2

tsp

curry powder

1/2

tsp

pepper

pinch

cardamom

1

cup

parsley leaves

1/2

cup + 1 Tbsp

chickpea flour

1/2

cup

water

1

Tbsp

lime juice

1/2

tsp

salt

1/2

tsp

baking powder

2

raw carrots

-

(for garnish)

broccoli sprouts

-

(or any other micro green for garnish)

1

cup

coconut oil

-

(for frying)
Instructions
Preheat oven to 250F (95 °C).

Destem portobellos (do not wash, only wipe clean with a dry cloth)

In a small bowl whisk soy sauce and 2 Tbsp coconut oil together and then smear all over portobello top with your hands.

Place all portobellos on a slightly deep baking sheet (don't worry if they are very close together they will shrink very much in size and then fit perfectly on the sheet) and put in preheated oven for approximately 2 hours (until all the other things are made).

Peel and slice onions.

Heat 1 Tbsp coconut oil in a large pan over medium heat and once hot add all onion slices and stir to break them apart. Reduce heat to low and caramelize onions by stirring about every 5 minutes to avoid burning (this will take long: 45-60 minutes).

In the meantime prepare herb sauce by washing coriander and chives and just shaking them dry by hand and then placing them in a food processor, wet as is. Process until herbs resemble a paste. Add honey, lime, salt and dried garlic and continue processing until well combined. Set aside.

Don't forget to stir those caramelizing onions.

Now in a pot bring about 2 liters of water to the boil.

Peel and quarter potatoes and put in water (don't worry you don't have to wait for the water to boil, just toss in the potatoes).

Once all potatoes are in the pot, cover, reduce heat to medium and cook potatoes.

Don't forget to stir those caramelizing onions.

Now peel and very finely chop ginger and add to a small bowl.

Peel and crush garlic and add to same bowl.

Now add spices to same bowl (coriander, cumin, curry powder, pepper and pinch of cardamom). Set aside.

Don't forget to stir those caramelizing onions.

In another bigger bowl add chickpea flour, salt and baking powder and whisk until well combined, then add water and lime juice and mix with a spatula until well combined. Set aside.

Don't forget to stir those caramelizing onions.

Once potatoes are cooked, drain and set aside.

Heat 1 Tbsp coconut oil in a non-stick pan over medium heat and once hot add spices from small bowl and potatoes to pan and fry everything constantly stirring for about 5 minutes until potatoes are well coated with spices.

Are the onions caramelized yet? Do they look like in the pictures? Then remove from heat and set aside.

Mash potatoes with a potato masher and let cool down a little.

Once cooled down add to chickpea flour/water mix and stir until doughy consistency.

Wash and destem parsley, dry well and then chop finely.

Add to chickpea-potato dough and incorporate until well combined.

Heat 1 cup of coconut oil in a nonstick pan over medium heat and once really really hot (not too early, wait at least 10 minutes), form about 6 patties out of the chickpea-potato dough and fry 3 at a time turning midway in the very hot coconut oil until desired color (for me that was about 4 minutes per side).

Remove from oil and place on paper towel for it to suck up excess oil.

Now to build the burgers, take out portobellos from oven and use as buns.

Put caramelized onions first, then a patties, then herb sauce, then grate some carrot on top and then place some broccoli sprouts on top.

Enjoy!!!
What's your clean eating vibe?
Take this fun QUIZZ and find out in 10 seconds!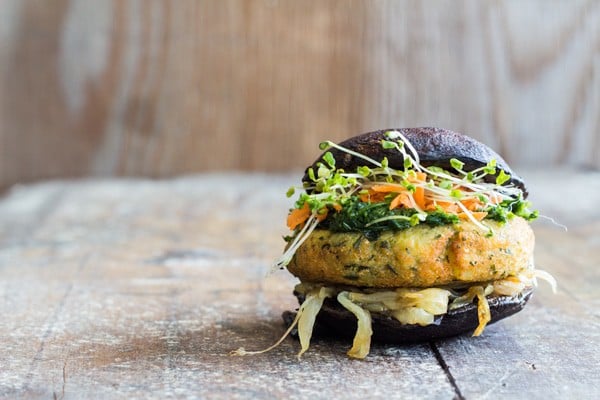 1:29 am and I'm finished. This is a good sign! Being able to keep my eyes open until this time means I am tooootally back to normal, yaaay ;)