My sister sent me a couple of cooking magazines via post mail from Germany and thank goodness she did because on one of them there was a dish with polenta on the cover and I immediately craved this….uuuhm….I was going to say childhood food, but I guess it does not really qualify for that denomination because it wasn't served too often at home as a child….often enough to be remembered though I guess.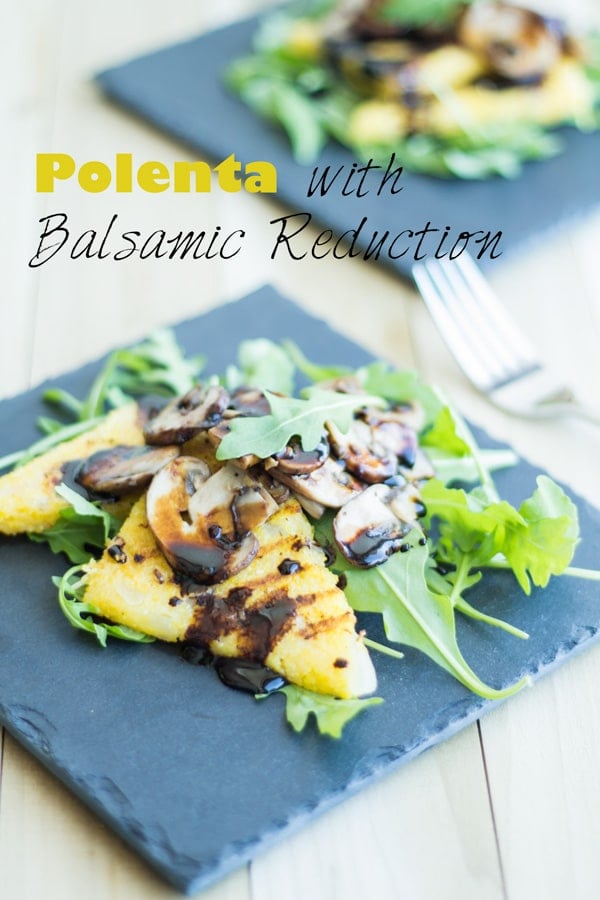 You have to know, my mom (the main cook at home) should have been a food blogger because she hardly every repeated any meals. There was always something new on the table. Every. Single. Day. I did not grow up with Taco Tuesday and Pizza Friday. I grew up eating the most bizarre dishes from the most bizarre cuisines of all over the world and though as a I child I might have thought every once in a while, I wish my mom would cook "normal" stuff, I am thankful now that I have been exposed to so many different flavors and textures ever since I was a baby. Today, I am not afraid of trying almost anything remotely edible and discover even more flavor combinations and here and there new foods and cuisines. In this case, let's indulge in Italian cuisine, sweet and sour, crunchy and soft….mmmmmm.
This Polenta with Balsamic Reduction can be served as a starter or as a side combined with some plant protein like lentils (for nutritionally complete vegan meal) or animal protein like fish (for nutritionally complete omnivore meal). The polenta and balsamic reduction can be prepared a day ahead in case it is planned for a dinner party and the preparation time has to be reduced. The reduction will harden and resemble candy but heating it up again will make it creamy again.
Allora, buon appetito!
Polenta with Balsamic Reduction
Print Recipe
Ingredients
1

small onion

2.5

cups

water

1

cup

corn meal

2

cloves

garlic

5

oz

mushrooms

-

(140 g)

5

oz

arugula

-

(140 g)

1

cup

balsamic vinegar

salt

pepper
Instructions
Peel and chop onion.

Heat a little olive oil over medium heat in a pot.

Once hot fry onion until translucent.

Add 2.5 cups of water and bring to the boil.

Add 1 cup corn meal and stir until water has been completely absorbed.

Reduce heat to low, cover and let corn meal simmer for 15-20 minutes, stirring occasionally.

Season with salt and stir vigorously.

Pour cooked corn meal (polenta) onto a baking sheet and pat flat (as shown in picture above).

Let cool for at least 30 minutes.

Pour a cup of balsamic vinegar into a large saucepan, bring to the boil and then reduce heat to mere simmer and leave uncovered so water can evaporate.

Reduction is ready when it covers the back of a spoon (as shown in picture above).

Peel and crush garlic.

Wash, dry and slice mushrooms.

In a medium saucepan heat a little olive oil over medium heat and fry garlic and mushrooms until soft.

Season with salt and pepper.

Cut polenta into desired shapes and grill in a grilling pan.

Arrange arugula, polenta and mushrooms on a plate and pour balsamic reduction over everything. (If reduction has hardened, heat again and it will become creamy again)
What's your clean eating vibe?
Take this fun QUIZZ and find out in 10 seconds!