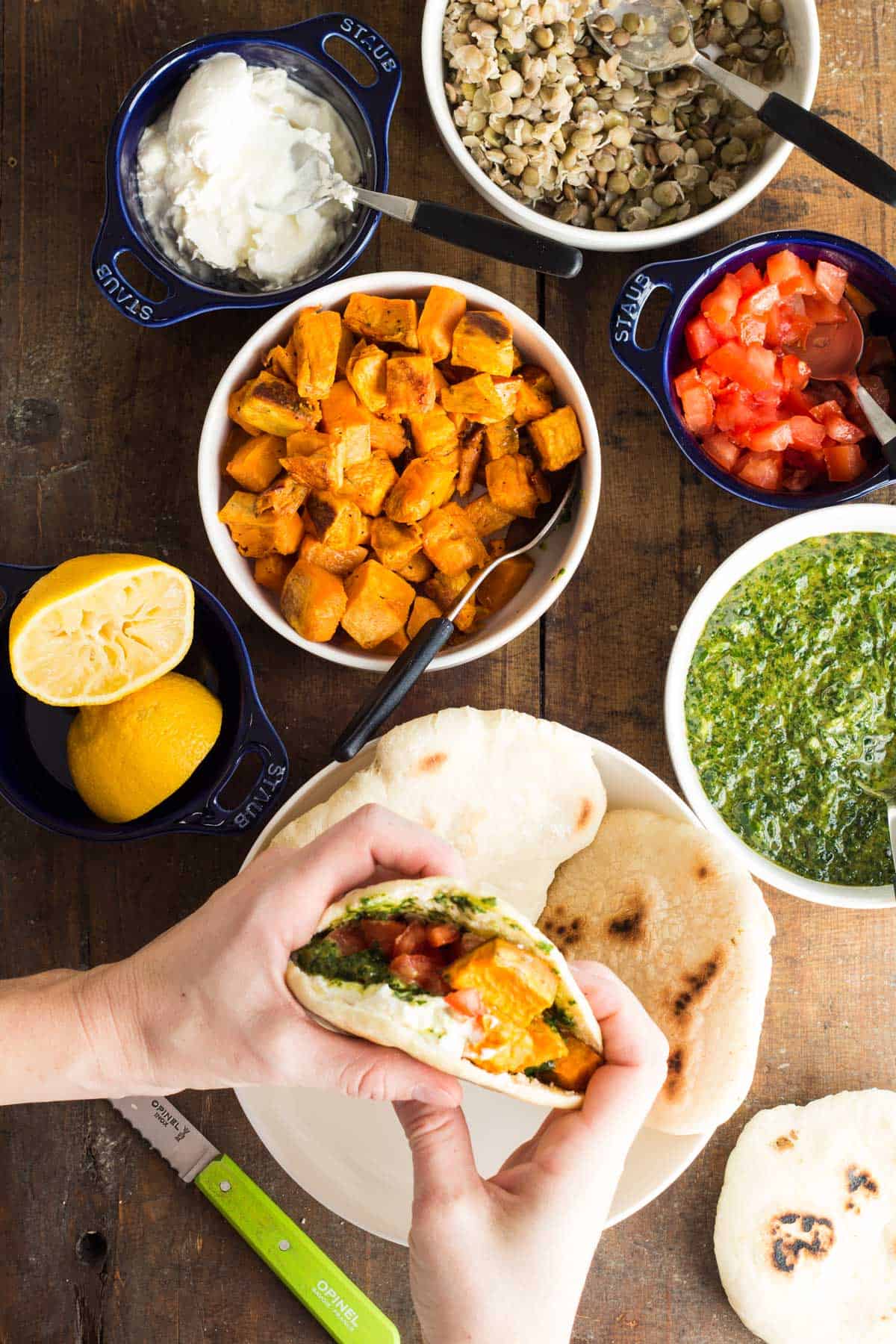 Pita With Sweet Potato Lentil Filling
Print Recipe
Ingredients
6-8

pita breads

-

(preferably homemade)

2

cups

sprouted green lentils

1

large

sweet potato

Out of This World Tahini Herb Sauce

2

large

tomatoes

Greek yogurt

lemon

-

(optional)
Instructions
Preheat oven to 400 F (200 °C).

Peel sweet potato and cut into about 1" cubes.

Wash and cube tomatoes.

Add sweet potato cubes to oven for about 35 minutes or until starting to brown.

If you are making your own pitas now is the time to bake them in the pan while the sweet potato is roasting. If you are using store bought start heating them up one by one and wrapping them in a clean kitchen towel to keep warm about 10 minutes before the sweet potato is ready.

About 20 minutes before the sweet potato is ready, bring 2 liters of water to the boil in a pot.

Add sprouted lentils to boiling water and cook for approx. 10 minutes or until desired tenderness.

Drain lentils and keep warm.

Cut open warm pita bread, add warm lentils, warm sweet potato cubes, LOADS of Out of This World Tahini Herb Sauce, tomato cubes, a dollop of greek yogurt and some freshly squeezed lemon if desired.
What's your clean eating vibe?
Take this fun QUIZZ and find out in 10 seconds!
How about a delicious vegan dish for meatless Monday? Pita With Sweet Potato Lentil Filling sound good? I though so! The king in this dish is the Out of This World Tahini Herb Sauce. This sauce makes absolutely everything taste out of this world! I recommend you always have a batch in the fridge actually because it tastes THAT amazing.
You can either buy already sprouted lentils, you usually find them in the refrigerated fresh produce section because once sprouted they have to be refrigerated OR, muuuch cheaper and very easy to do, you can just sprout them yourself. What I do is, one evening I put about 3 cups of dry green lentils in a big bowl and fill the bowl with water up to about 3/4 to make sure the lentils are submerged in an abundant amount of water. The next morning I drain and rinse them and leave them on the kitchen counter in the pasta colander covered with a clean kitchen towel to prevent any dirt or dust to fall onto the lentils. In the evening I rinse them again very very well, let them drain and cover again and put back on the kitchen counter. The next day same procedure, morning rinse, evening rinse. The third day they are usually sprouted to the point I like them, as seen in the photo. I rinse them one last time, let them drain for about 30 minutes and then store them in a paper towel lined glass container that has an airtight sealing lid and store them in the fridge. I use the lentils throughout the week for quick weeknight dinners because they're now cooked in about 10 minutes.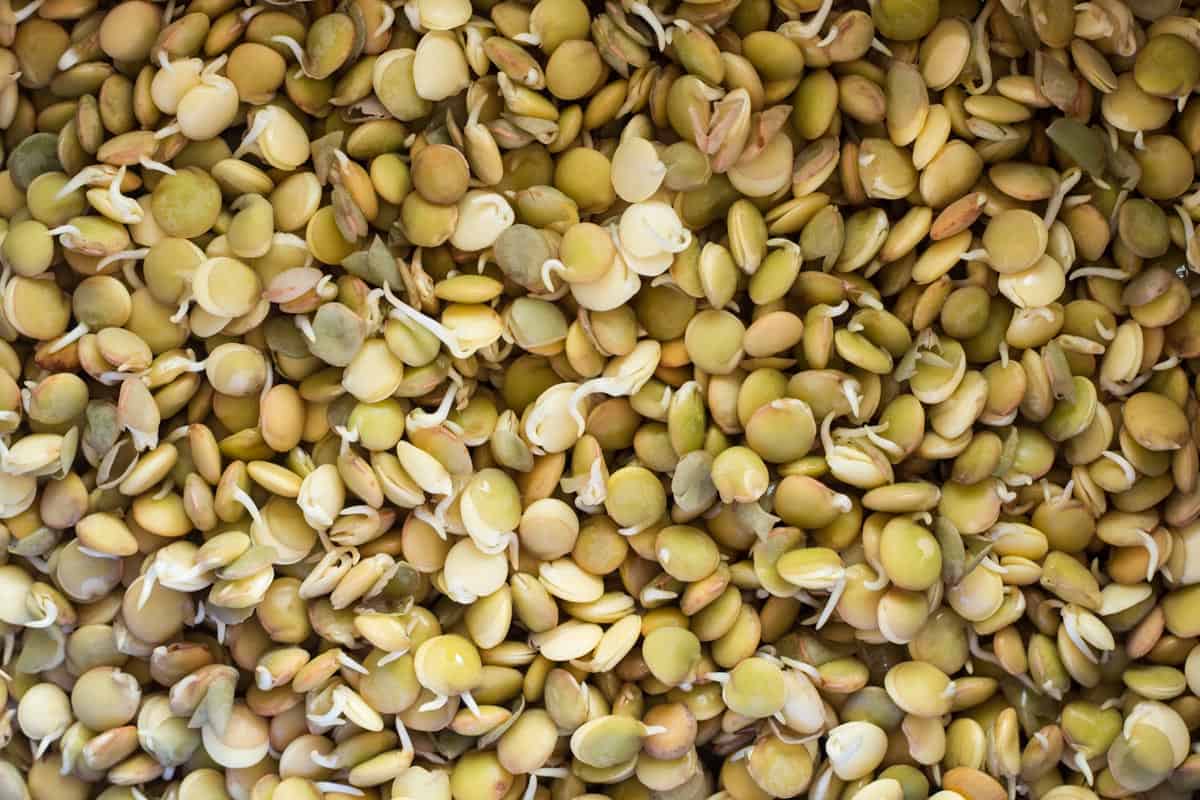 Let me know if you'd like a more in-depth tutorial with step-by-step photos to sprout your legumes. It's really easy and it makes not only cooking time short but also digestion SO MUCH EASIER!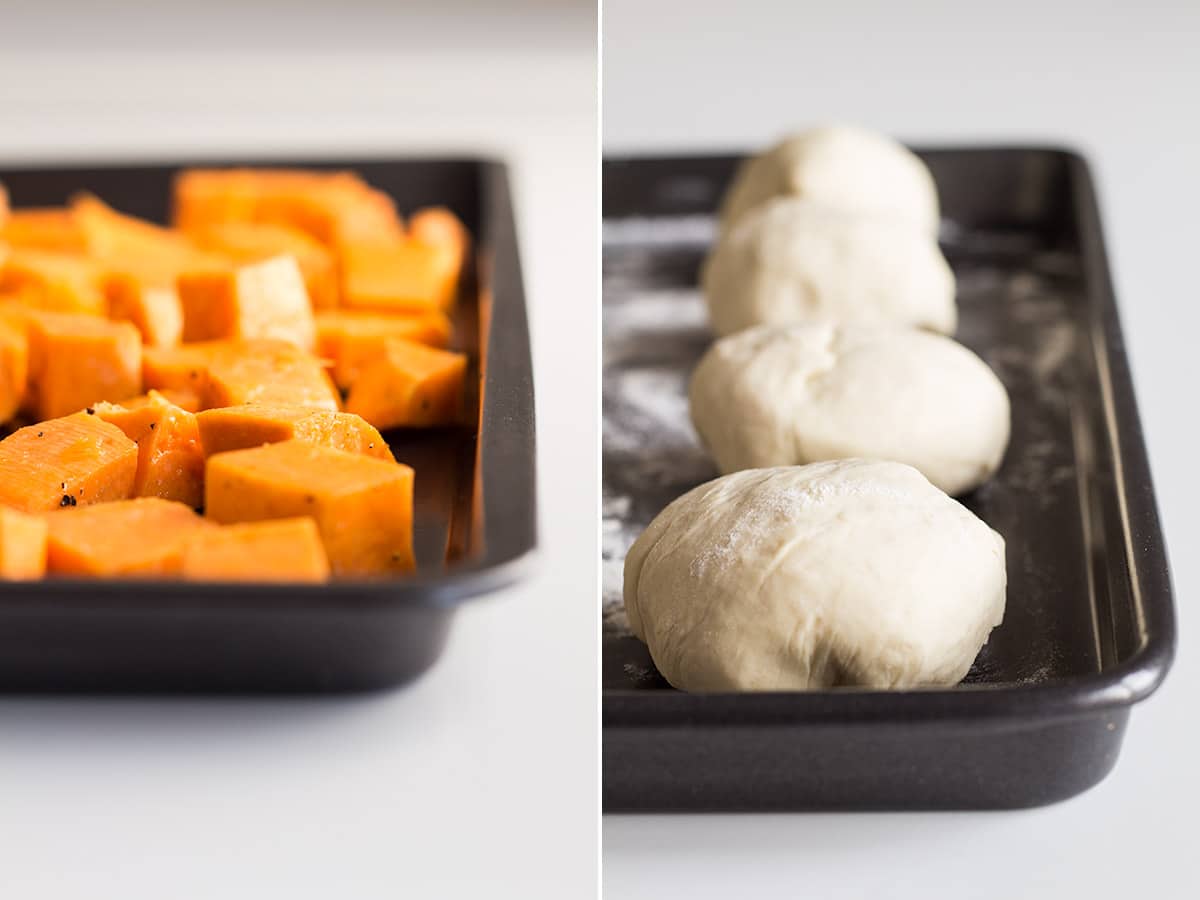 I've made Tieghan's (from Half Baked Harvest) Traditional Greek Pita Bread six times now and I absolutely LOVE it. It is the fastest to make but still delicious bread I've ever eaten. Now you must understand that as a German I am VERY spoiled and picky when it comes to bread. Good bread, traditional bread takes TIME. Usually anywhere between 6-24 hours any bread made faster simply tends to be horrible bread. Full. Stop. So I have to admit that I was a bit skeptical if the Pitas were going to turn out great even though every single recipe of hers I've tried before has always turned out great. This bread is an exception to my bread takes TIME rule. It is amazing! I do prefer giving the dough a second rise once formed into balls but that only to give it a bit more fluffiness, the taste stays the same of course. The second raise was a short 20 minute raise on the radiator. You should really give this recipe a try. It's great :) I've made the dough and immediately stored it in the fridge after the first rise once and the next day right after getting up took it out, formed the balls and let it sit on the kitchen counter for 20 minutes while I was getting dressed and ready and then made the pitas in the morning to have nice and hot delicious bread for breakfast. Mmmmmmm.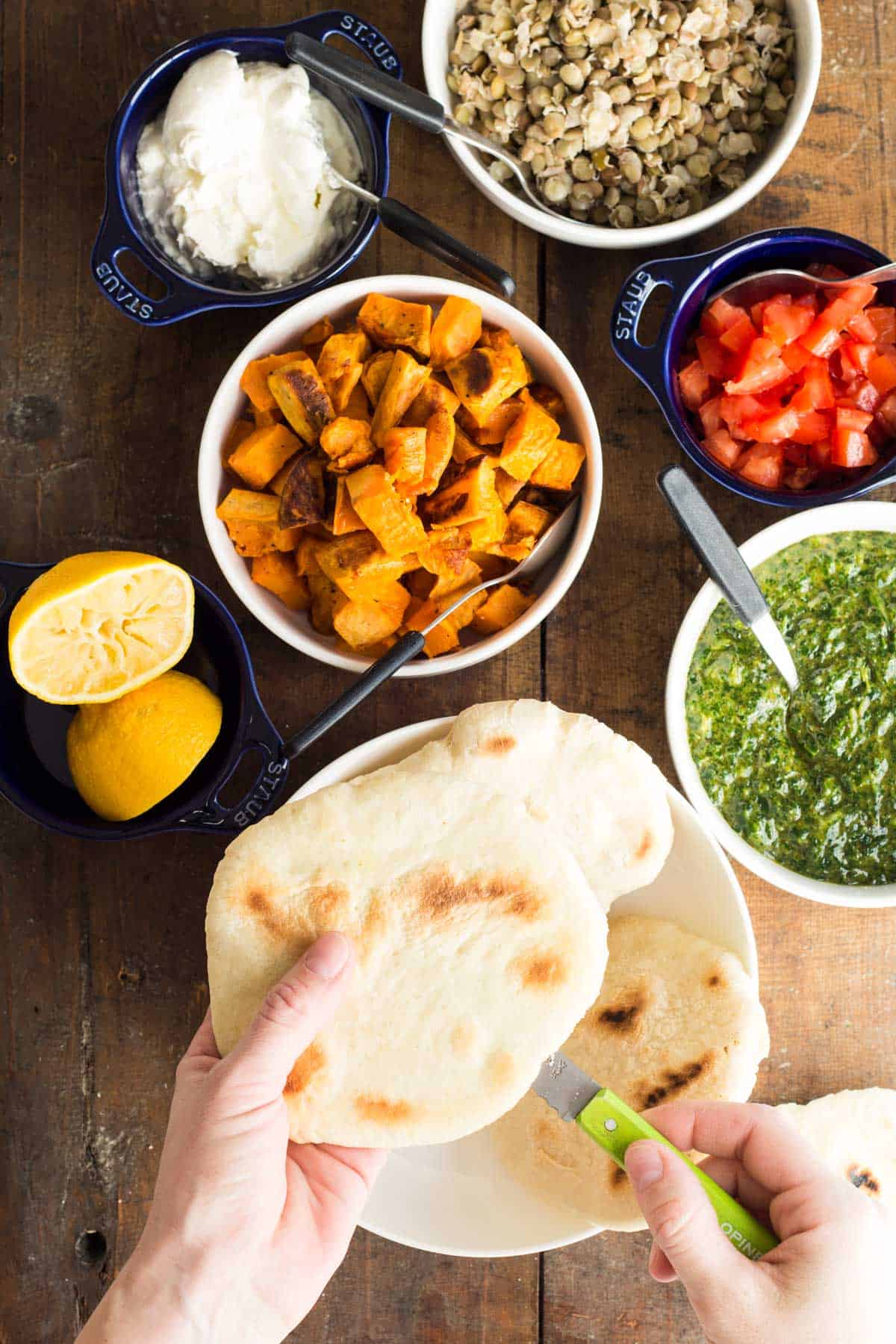 Cut open your pita, fill it with all these deliciousnesses and use your hands to eat and make an mmmm sound while you do. The mmmm sound is essential for full satisfaction ;)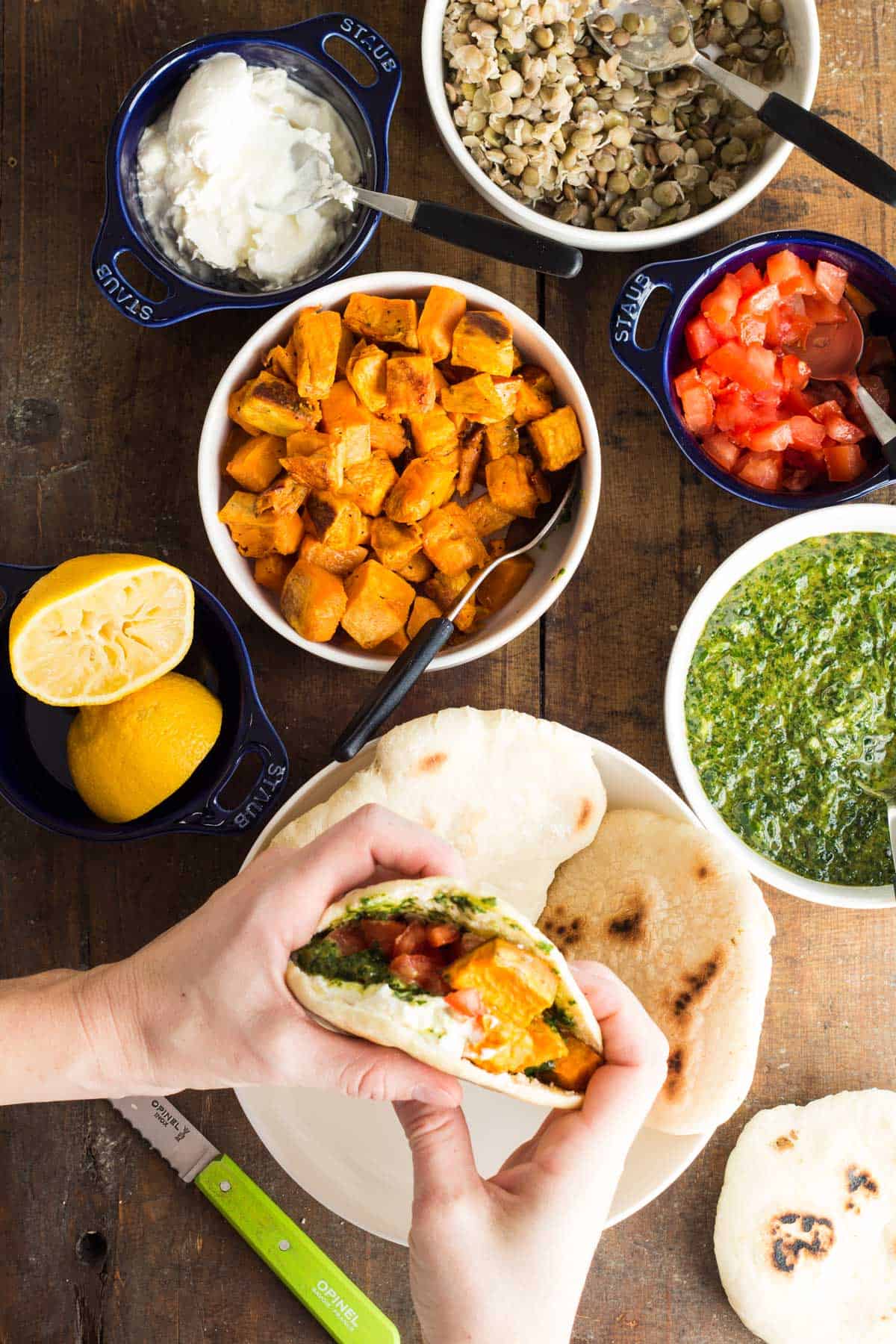 If you've prepared all the filling a day ahead you could even have Pita With Sweet Potato Lentil Filling for breakfast. You could warm up the roasted sweet potato and lentils in a pan, remove from heat once hot, add in the Out of This World Tahini Herb Sauce, tomatoes and Greek Yogurt mush it all together and then stuff the freshly made and deliciously warm Pita Bread. What an amazing start in the day *BLISS*