We moved!!! We moved into our lovely, no, no, no, GORGEOUS new apartment and I couldn't be happier!! The kids are ecstatic about their new room and beds and in general the apartment. My husband loves his living room and guess what my favorite part of this place is….yes, you guessed right: the kitchen…….*angelical: ahhhhhhhhhh* It is HUGE. It is massive, it has white cabinets, stainless steel appliances, gray stone backsplash tiles, black granite countertops…. Really, you guys, it is HEAVEN! I haven't been able to take nice pictures because I've been busy taking everything out of boxes and organizing the whole apartment. I don't want to take pictures of a messy kitchen. I'm aaalmost done. Kids room is ready, master bedroom is ready, bathroom is ready, all 4 closets are ready, living room is ready. Office is almost ready and kitchen is almost ready, too. A couple more things that have to find it's home in the cabinets and I'm good to show you around :)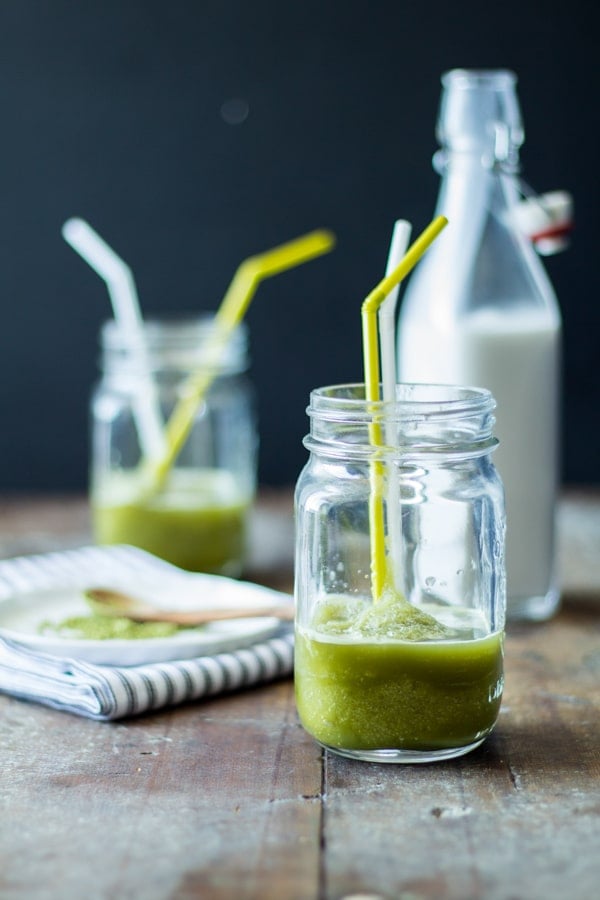 Unfortunately, I haven't been able to cook something for the blog just yet. My fridge is crying because it's so empty. The only times I have left the apartment was to buy bulbs to replace burnt ones in lamps and to pick up the kids from school. We've been eating sandwiches for 2 days for lunch and dinner now. It really is time I went grocery shopping so we can have some decent meals here again.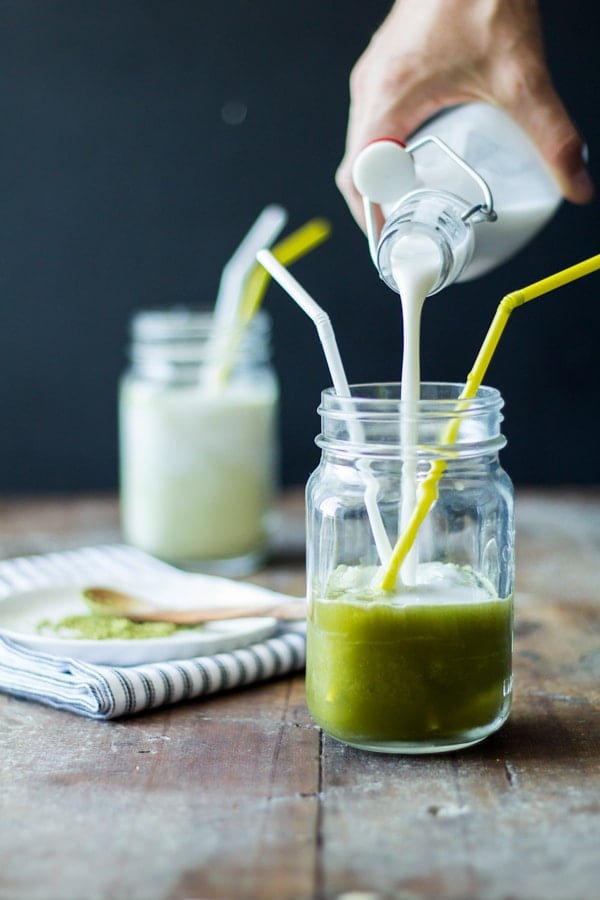 This Iced Maple Matcha Latte I made when still in the old apartment and I loved it. It was THE perfect snack while I was packing everything. My body seems to be immune to coffee's caffeine by now. I can drink as much as I want and it just doesn't wake me up anymore (maybe I should sleep a little longer? Just an idea). Tea, however, totally does the trick. I'm not used to tea's caffeine and it gives me that extra boost I need to get through high-speed days with close to no sleep. I shouldn't be writing this really. I encourage you all to eat healthy and live a natural live style and here I am promoting "drugs" to cover symptoms of exhaustion. I should be telling you to leave things undone and go to bed early and rest because that is the best way to stay energized and healthy. However, let's face it, there are times where this just isn't an option. If you want to move and you're money does't grow on trees so you can pay movers to pack, move and unpack your stuff, you just have to be a superhero for a couple of days and do it all and do it all yourself. It was a couple rough days but all in all we were incredibly lucky. We had friends watch our kids for like an eternity the day we moved, picked them up and put them straight to bed (bathed and fed – THANK YOU STÉPHANIE!!!) and were able to work like busy ants all day. By 3:30 am, both kids beds were painted, their room was completely organized and all furniture was assembled. The master was done and the kitchen was half way done. Phew!
An Iced Maple Matcha Latte tastes refreshing and sweet and is incredibly energizing. All in all it is probably the healthiest way to "drug" yourself, lol. You should definitely give it a try. I'm sure you'll love it!!
Iced Maple Matcha Latte
Print Recipe
Ingredients
1

cup

ice cubes

1/4

cup

water

1

tsp

matcha tea powder

1

Tbsp

maple syrup

1/2

can

coconut milk
Instructions
Put ice cubes, water, matcha tea powder and maple syrup in the blender and pulse until it resembles slush.

Pour into a glass and add canned coconut milk.
What's your clean eating vibe?
Take this fun QUIZZ and find out in 10 seconds!
The coconut milk contains a lot of fat, thus this is not just a drink but rather a filling snack or a good replacement for breakfast. Put it in you coffee-to-go-mug and off you go to work or school or wherever you have to go and arrive with eyes wide open.