I believe fresh dark green leafy vegetables (short: greens) should be in everybody's diet at least once daily. Dark green leafy vegetables are probably the highest sources of many vitamins (A, C, and K, folate) and minerals (iron, calcium) per calorie. They are also amazing sources of fiber and let's be straight forward here: healthy bowel movements rock! The nutrient density found in dark green leafy vegetables, I am completely convinced, prevents certain types of cancers and promotes overall health and well-being. Apart from that they are absolutely delicious if properly stored and prepared. However, the emphasis here lies on "IF". Greens that haven't been properly stored first take on a not much enjoyable grassy flavor and then get all soggy and gross. I have met so many people that have told me they don't like kale, chard, spinach or whatever other leafy vegetable no matter what recipe they try and after further inquiry I was able to figure out they just don't know how to store them properly and always end up preparing their recipes with not so fresh greens and thus their dishes taste like grass. Yuck! The best would obviously be to pick your greens right before cooking them, or at least buy them only a couple of minutes before cooking them but that is certainly not an option for most of us. Not everybody has the space to plant greens, nor the weather for all year round planting and harvesting, nor does everybody have the green thumb necessary to grow food. And who has the time to go grocery shopping every single day to get fresh greens? A much more effective and easier way is to properly store the greens you buy once a week or once every two weeks. If you store your greens the way I will show you below, they will keep fresh and crunchy for at least 2 weeks. So here it comes:
How to Store Your Greens
First, choose a day on which you'll have time to do some extra work. Don't worry. It won't take too long and you'll get rewarded back all that time you invested throughout the week because then you won't have to do anything anymore but just grab your prepared greens for cooking.
Go buy all the greens you wish, go home, fill up your sink with cold water and let your leaves swim in the water for a couple of minutes. Then rub every leaf with your fingers under the water until all the dirt is gone. Depending on what you planned on doing with your greens that week you'll have to choose how to store them. I usually store ½ as whole leaves with stalks for juicing and the other ½ I destalk and chop for cooking.
To store whole leaves, spread them out on clean kitchen towels so they can air dry a little and then dry one leaf at a time, until as dry as possible.
Once dry, roll them up in paper towels. Don't worry about contamination, the paper towels can be reused later because they'll only be damp but clean. I use them as napkins for us (not guests of course, but for family use) or for cleaning the toilet.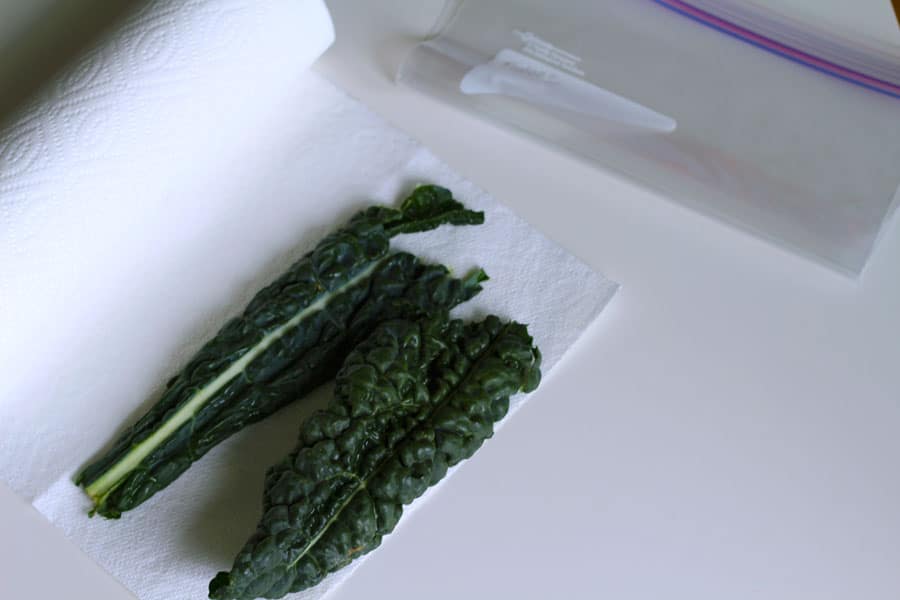 Don't put one leaf on top of the other without disposable kitchen towel in between. Just roll them up one next to the other.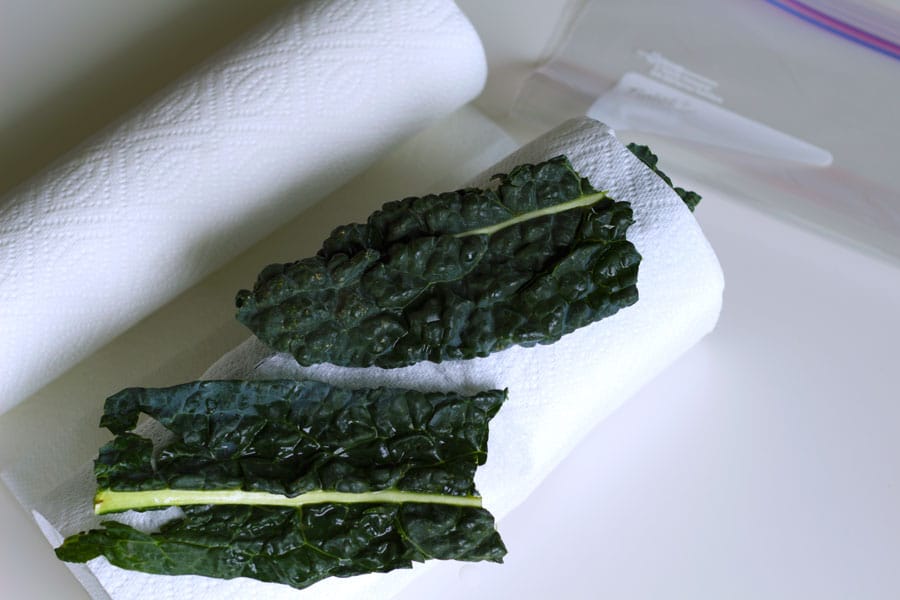 Once all your greens are rolled up store them in a glass container (preferably) or a BPA free sealable plastic storage bag (if fridge space is limited) and squeeze out all the air before closing.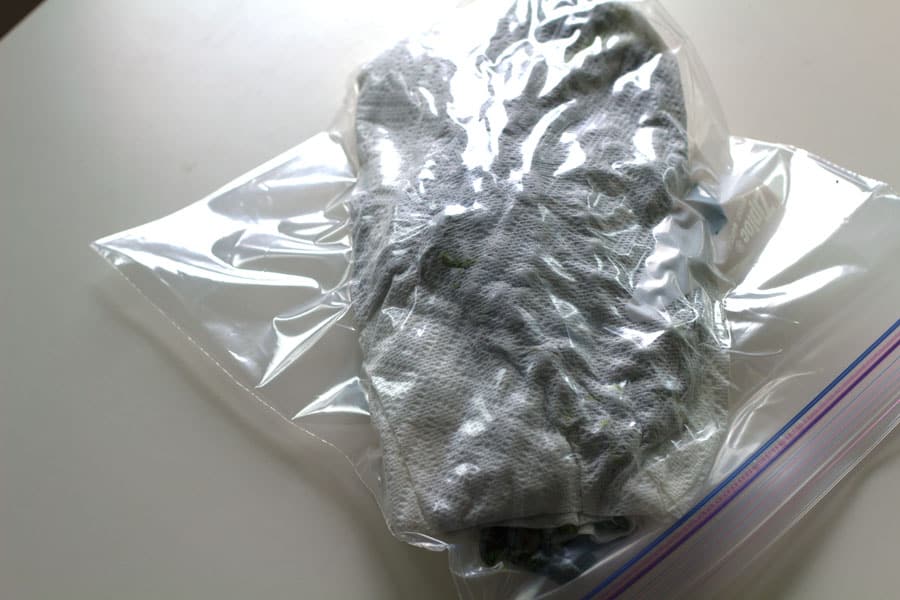 To store leaves meant for cooking, destalk when washing. Chop and then dry in a salad spinner.
Store dry chopped greens in a sealable glass container lined with paper towel. If it was chard you have prepared you can now take out one or two hands full for your Chard Egg Tacos or your Vegan Lentil Chard Stir-Fry if it's been kale you can take some out for your Kale Pea Spaghetti Squash.