With this post I want to show you all that it is not only possible but also easy to make Healthy Birthday Party Food without compromising taste and look.  Everybody will thank you for offering healthy food instead of junk, especially parents when you make it for a kid's party. I know oh so many moms and dads that feed their kids an extra heavy lunch and force feed them a couple extra spoons so they are VERY full before going to a birthday party where they know mainly fatty, sugar-loaded, food-colored junk food will be served. I certainly plead guilty of having force fed my children before birthday parties, uh-oh! However, I also admit that I don't really like doing that. I want my children to stop eating when they are full and not ever force them to overeat. I haven't found another solution to the problem yet, though. I can only write a post about it and hope to reach as many people as possible. So if you are just as concerned about what kind of food is served at parties as I am, please be an example for others and offer healthy food yourself. Plus: share this post with as many people as you can. I truly hope this will make a difference in many people's lives. Let healthy food rule the party world!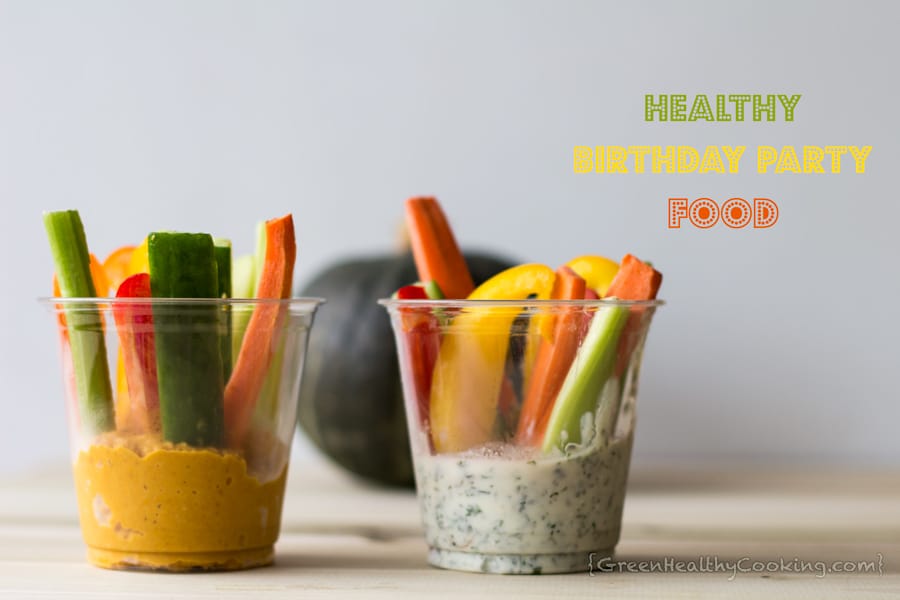 Now here is what I suggest as a pretty looking very healthy and varied menu for any kind of party…
As main dish so to speak what you can see in the picture at the top of the page:
Pumpkin Hummus with vegetable sticks (I used this tasty Pumpkin Hummus Recipe by Noms for the Poor). This can be prepared a day ahead and stored in an airtight glass container.
Herb Quark Dip with vegetable sticks (I used my own yummy Herb Quark Dip Recipe). This can be prepared a day ahead and stored in an airtight glass container.
You can also cut the vegetable sticks a day ahead and store in an airtight glass container to keep crunchy, only leave the cucumber uncut until the party day.
Accompany the main dish with some home-made gluten-free bread which is made in minutes and all your guests will love and ask for its recipe. (I used Simply Recipe's very easy, quick and delicious Easy Brazilian Cheese Bread Recipe). You can prepare the batter a day ahead and bake them the same day, they only take 15-20 minutes in the oven.
Serve some Cashews or any other nuts or seeds or maybe even nut mix so people can munch on something while all the guests arrive and the main food is served. This is basically the replacement for the typically served chips at parties.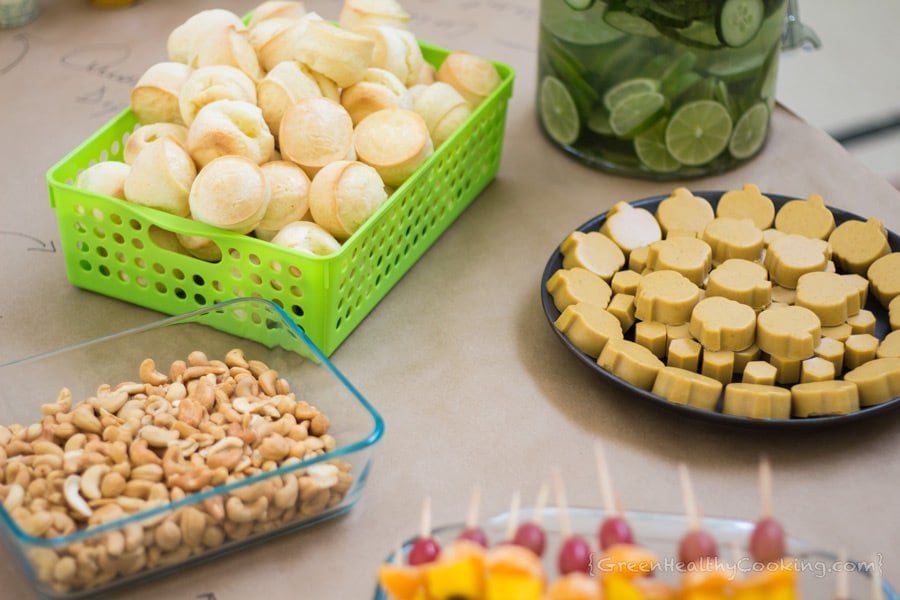 As "sweets" I really love to serve something that looks very special and thus impress my guests when saying it is completely junk free, like the pumpkin gummies in the picture above. (Find the recipe for the correctly called Creamy, Dreamy Paleo Pumpkin Bites on MamaNatural's website, one of my favorite Youtube vloggers).
The healthiest and best "sweet" is obviously fruit and it is only a matter of presentation to draw people's attention to it. Fruit can be presented this way for example (and, yes you can even prepare these a day ahead as long as you wrap the whole thing in cling film):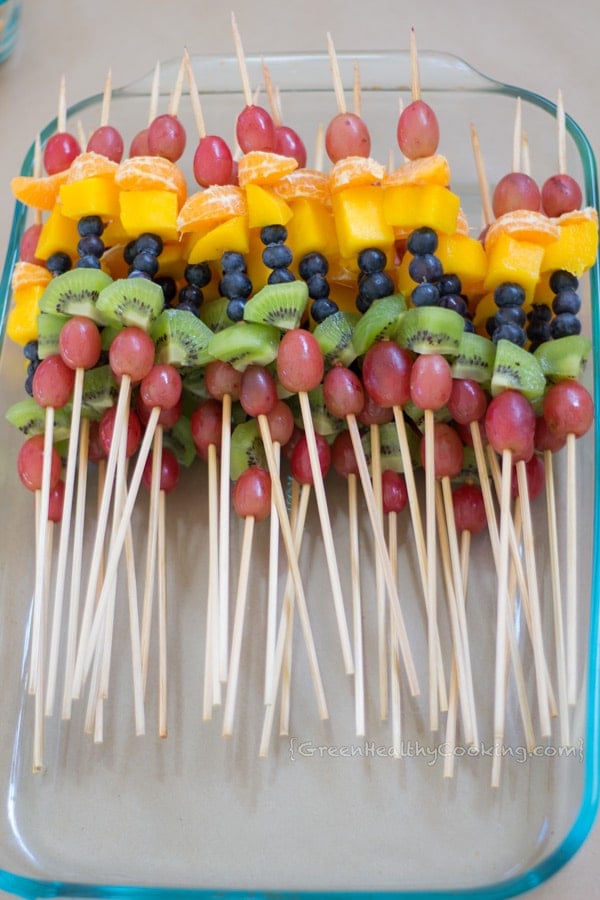 Even for drinking there is a nice way to serve…YES…WATER! No need for juices or even worse sodas. I do get, that serving only water looks kind of cheap but if you boost its look and taste a little you keep your menu healthy. Here is a wonderful and pretty way to do this (you can wash and cut lemons, cucumber and mint a day ahead and store in airtight glass container, do not add water until party day, though):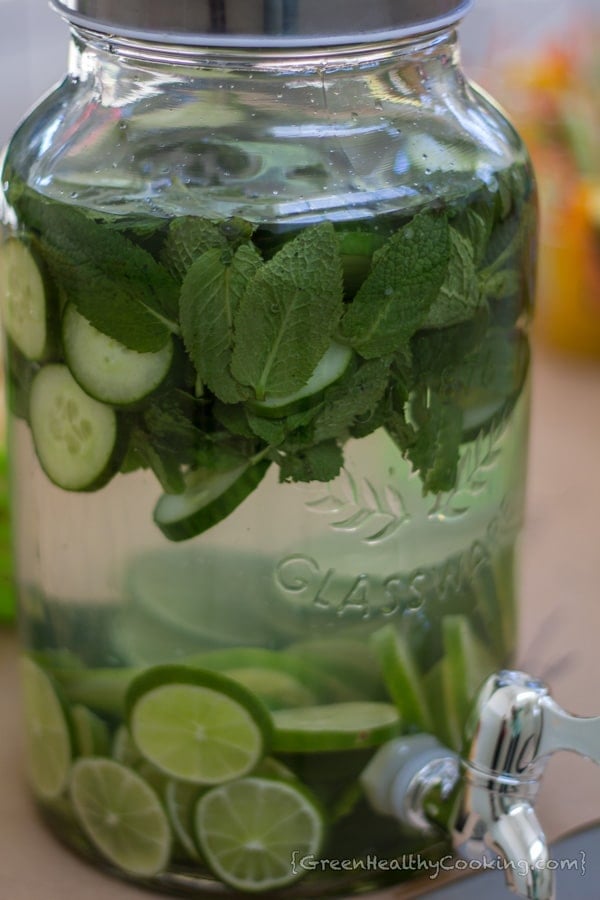 There is only lemons, cucumber and mint in the water. It gives the water a very subtle lemon-mint taste. At first you can hardly tell and the longer it sits the stronger becomes the taste and the cucumber starts to be noticed as well. Doesn't this look just beautiful?
Last, if you are inviting to a birthday party, the birthday cake can't be missing of course. I have tried many "healthier" cake recipes over the years and the chocolate cake shown in the picture below made with coconut sugar, instead of refined sugar, remains my absolute favorite (Find the recipe for the Best Ever Chocolate Quinoa Cake on Making Thyme for Health's website, this cake can be prepared a day ahead and should be stored in the fridge until just before serving):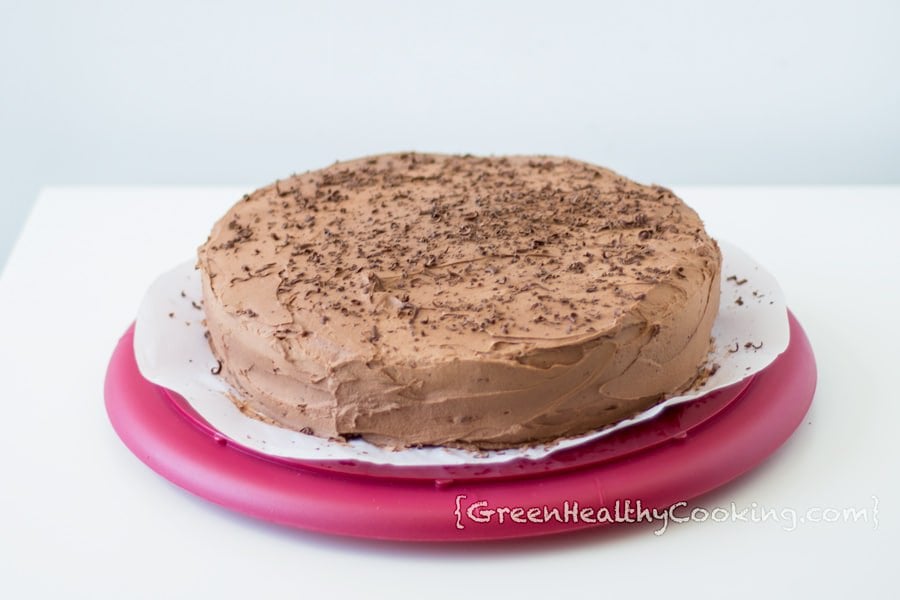 I hope I could give you some ideas for Healthy Birthday Party Food and encourage you to prepare something similar for your next party.