I was at the adorable little market in my small town and found all sorts of pretty things. It is so much more inspiring to go to a market as opposed to a supermarket. The way the sales people treat you and their food is so sweet and wonderful. The respect they show even towards their plants is amazing. As if they were their children. They are proud of their produce and sell it to you describing its colour, juiciness, freshness, crunchiness, healthiness and whatnot. I wish I had one of those sales people around all the time to write my blog posts. They just KNOW how to describe food. I sometimes struggle. It is hard to describe how something tastes. It is so much easier to just give someone something to try and find out him- or herself. At the market they do an amazing job describing food. I think I will have to go more often and learn from my colleagues.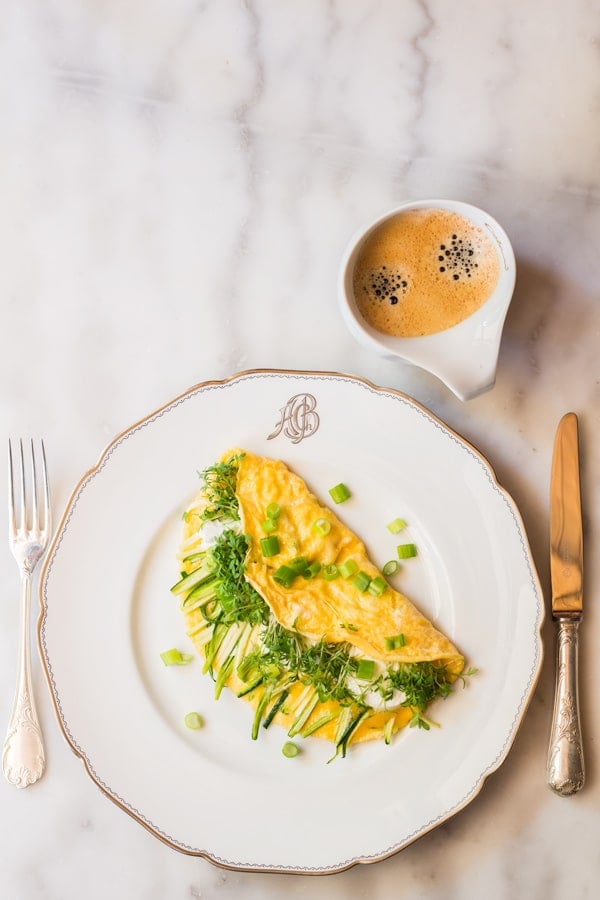 The egg sales stand was proudly announcing same day fresh eggs and I couldn't resist. I remembered I hadn't posted a breakfast recipe in ages and that inspired me to create this Goat Cheese Omelette with fresh spring onions, zucchini and garden cress. It tasted uuuuuh-mazing!!! It makes a world of a difference when the ingredients are all fresh and crunchy and juicy and all the beautiful words the market sales people use to describe their produce.
By the way, husband and I are currently in a bus on our way to Hamburg. It is taking an eternity but we couldn't be happier to be here on our way to a new city we never visited before……CHILDLESS!!! For the first time ever we left the children behind with grandma and went on a trip just the two of us. When we got married we couldn't afford a honeymoon on top of our big wedding and always figured there is time for that later. Well later was interrupted by remodelling and selling our apartment in Mexico City, getting pregnant and giving birth to our son, moving to London, getting pregnant again and giving birth to our daughter, moving to Montreal…..However, "later" FINALLY came now and we are going on a week trip to Hamburg and Berlin and we are nervous and anxious to leave our babies behind but oooover the moon excited, too. Our kids are in the best hands there are on the planet. Thank you Mami!!!
Goat Cheese Omelette
Print Recipe
Ingredients
2

eggs

2

oz

milk

-

(60ml)

salt

1

small

zucchini

2

spring onions

1

hand full

garden cress

1.5

oz

goat cheese

-

(40g)
Instructions
Heat a non stick pan over low-medium heat.

Wash and julienne zucchini.

Wash spring onions and chop green part only (save white part for something else).

Cut and wash water cress.

In a small bowl whisk together eggs, milk and a pinch of salt.

Add a tiny bit of flavourless vegetable oil (such as avocado or sunflower oil) to pan and wait for it to be hot.

Add egg mix.

Place zucchini, goat cheese and most of the spring onion green on one side of the omelette and as soon as the egg is cooked through enough to be able to lift it with a spatula, carefully flip the empty half over the full half and continue to cook for another minute or two. The middle should remain uncooked and soft. If you cook the omelette for too long it will become dry and chewy.

Remove from pan, add garden cress and decorate with remaining chopped spring onion.

Serve with a delicious cup of hot coffee and start your day with this delicious breakfast kissing the inside of your belly.
What's your clean eating vibe?
Take this fun QUIZZ and find out in 10 seconds!