A delicious and nutritious full meal made in less than 20 minutes that happens to be the best Camping Lunch: Sinconizadas con Pico de Gallo! There is no easier and quicker way to have lunch with scarce cooking facilities and no desire to spend much time cooking. When camping you are out to enjoy nature anyway, right? As I mentioned on Tuesday, we went camping over the weekend and this is what we had for dinner one day because the group of friends we were decided to have a big lunch instead of big dinner. Otherwise this would have been lunch. You can certainly eat this for breakfast, too, though. It tastes amazing at any time of the day, haha!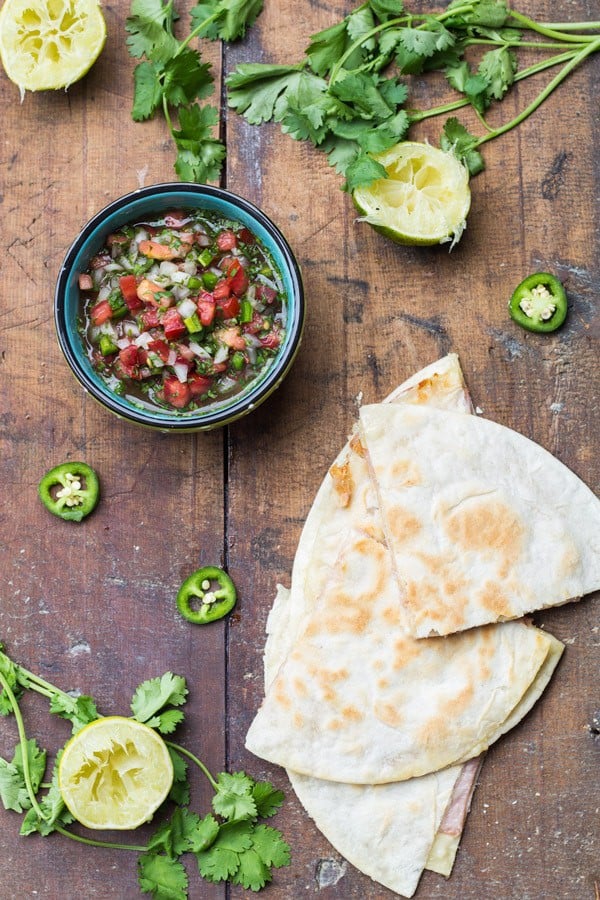 Apart from the dish's simplicity I love that it is dirt cheap. After our family visiting trip to Germany our wallets are kind of bleeding and need some healing so I'm looking for cheap ways to feed the breed these days. Prepare for some more dishes like this in the next couple of weeks….or months. Ugh! Food in Montreal is so expensive compared to other places I'm impressed every single day when I spend what feels like a fortune on food here. I haven't yet found out why but whatever the reason might be, it doesn't change the fact that we have to eat anyway….to get strong like The Hulk and tall like daddy (who in our family is 6′ 4″ / 193 cm by the way, so we have to do a loooot of eating) *sigh*
Sincronizadas are a very typical food in Mexico City mostly for children when going out to a Taqueria where all Tacos tend to be hot hot hot. My kids absolutely love them and for the adults we just serve the hot Pico de Gallo aside because Mexican food without salsa simply ain't Mexican food. For the children you can make Green Healthy Guacamole without the Jalapeños so they can feel super Mexican, too.
Camping Lunch: Sincronizadas con Pico de Gallo
Print Recipe
Ingredients
1/2

small

onion

1

tomato

1

hand full

coriander leaves

1-2

jalapenños

salt

1

lime

8

flour tortillas

-

(6" / 15 cm)

200

g

cheese

200

g

ham
Instructions
Peel and very finely chop onion and soak in water while preparing the rest. (Use a colander and submerge in a bowl with water and add onion, in order to easily fish it all out afterwards. This is to remove the bitterness of the onion).

Wash and destalk coriander and chop leaves.

Wash and very finely chop tomato.

Wash, deseed and very finely chop jalapeño(s).

Heat a pan over medium heat (NO OIL).

Grate cheese and divide into 8 piles.

Once pan is hot, add a flour tortilla, sprinkle about 25g grated cheese (one pile) evenly on top, add slices of ham evenly on top, sprinkle another pile of cheese evenly on top and place another tortilla on top.

Bake for about 2-3 minutes until desired color and flip.

Repeat another 3 times.

Now in a bowl mix together chopped onion, chopped coriander, chopped tomato and chopped jalapeño(s), add a little salt and juice of 1 lime. Salsa is ready. Enjoy with Sincronizadas!
What's your clean eating vibe?
Take this fun QUIZZ and find out in 10 seconds!